Blogpost
in
hosting
Disaster recovery plan | Choose your server provider wisely
Natural hazards, technical risks, or human-caused pitfalls can damage a data center. This is why safety is the number one priority at a data center to ensure a smooth operation of your business at all times. Hash it out.
Published by

Simone Catania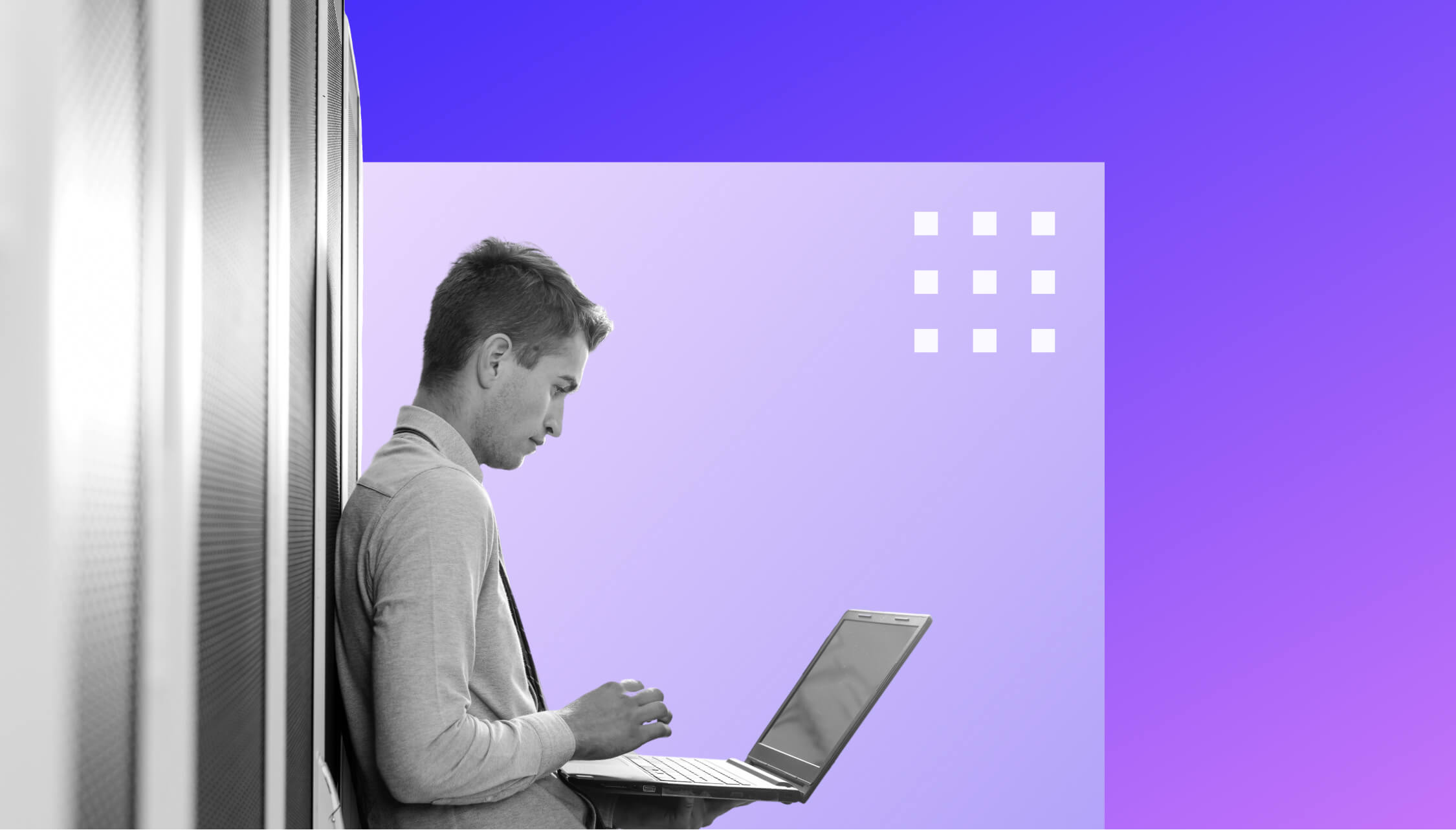 According to the Federal Emergency Management Agency (FEMA) 40% of businesses do not reopen after a hosting disaster or a loss of data and another 25% fail within one year. But the worst-case scenario comes from the US Small Business Administration: over 90% of companies go bankrupt within two years of being struck by a disaster. Is your business relying on a trustworthy partner?
No matter the cause, our data center is at your side ready to respond to any critical concern.
What disasters can potentially harm a data center?
Protecting a data center from a disaster means ensuring that data remains safe after different kinds of events: from natural ones such as earthquakes, fires, and floods, to cyber attacks like DDoS and malware to physical manipulation like unauthorized access or thefts. But we should not forget that a wide range of accidents can be traced back to human error: problems might occur also in case of illness or lack of key personnel or problems with suppliers.
Being aware of these possible occurrences is a great starting point but having a quick response already set is vital for a business. This is where a Disaster Recovery Plan (DRP) comes into play. Let's shed light on what this plan includes, why it is essential for business continuity, and how InterNetX makes sure your data is safe also in the face of an accident in its TIER 3 data center.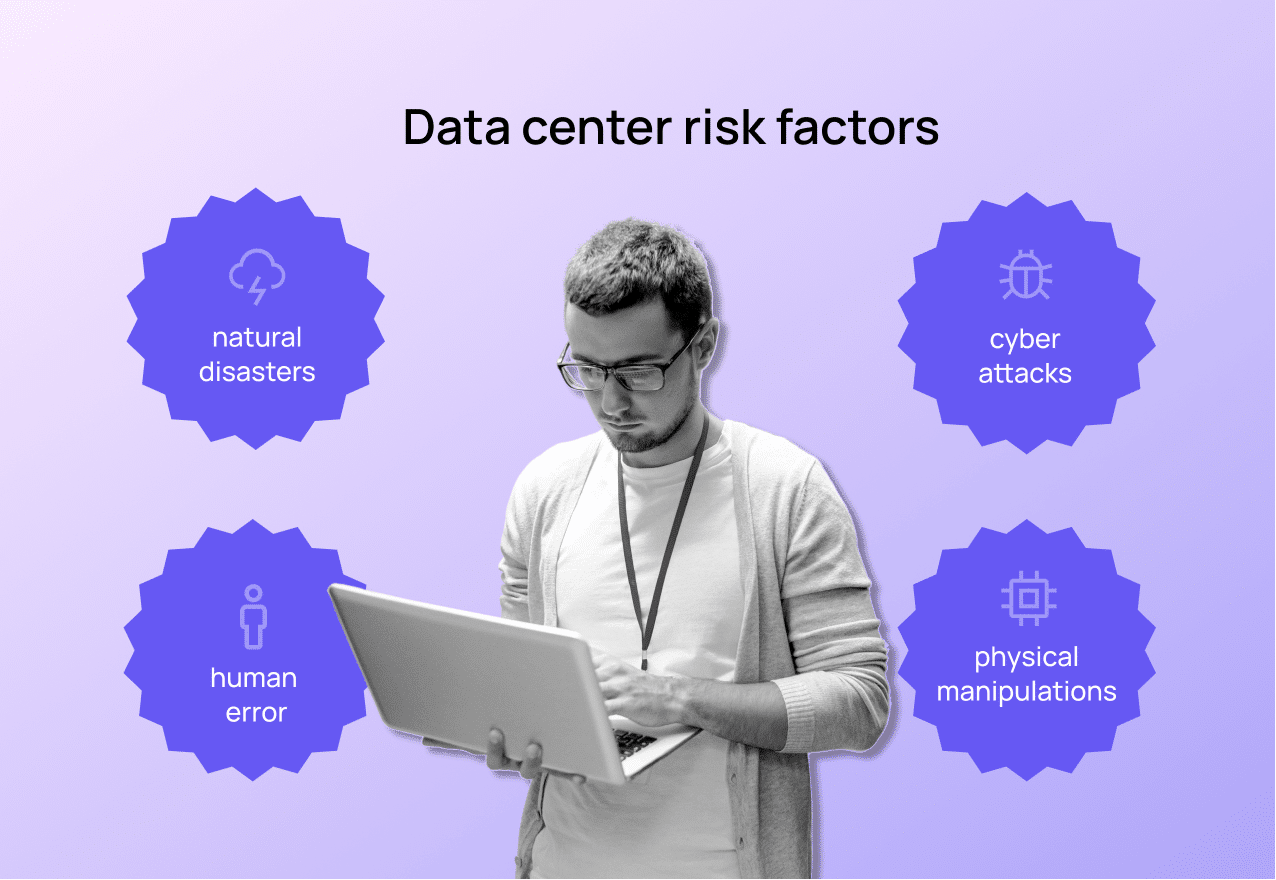 What is a Disaster Recovery Plan?
Let's start with a definition. In information technology, but above all in the information security field.
Disaster Recovery is a set of technological, logistical, organizational safety measures. These are aimed at restoring systems, data, and IT infrastructures necessary to provide business services in the face of serious emergencies that would affect regular operations.
This means that with Disaster Recovery you identify the criticalities of systems and applications, which are vital for the safeguard of a business. It does not only help to avoid longer downtime but also to prevent data loss. The document containing all these safety measures is called a Disaster Recovery Plan (DRP).
Business Continuity: please, don't stop the internet!
How much would one hour of downtime cost your business? Is your company going to survive the loss of a website? Today, organizations rely on data and their operations must often run without any interruption. Since modern businesses depend on their IT infrastructures, they must be up and functional 24/7: Business Continuity must be always assured. This is why a DRP is generally part of a broader Business Continuity Plan (BCP).
Disaster Recovery Plan vs Business Continuity Plan – where is the difference?

At this point, the aim of these two essential plans should be quite evident: having a strategic vision that ensures the future integrity of your business.
While the DRP is a document used to mitigate an event capable of compromising the technological functionality of critical data and systems
the BCP takes into account all events capable of having an economic, regulatory, legal, financial but also reputational impact on the organization.
When did it become necessary to have a Disaster Recovery Plan?
The idea behind Disaster Recovery emerged in the second half of the 20th century when managers began to recognize their organizations' integrity depended on their IT systems. At that time they were mostly batch-oriented mainframes so the actual downtime was less critical than it is today.
Those systems could have been down for days before truly damaging the organization. The scenario is rather different today: every single minute of downtime can cost hundreds or thousands of dollars to some companies! And can you imagine what it means today to lose a website, such as an online shop?
With the use of open and real-time systems in recent years and the rise of cloud computing with IT services accessible remotely, the awareness around the potential risks of IT-related disasters has grown rapidly. This attention and strong interest in data safety have generated high-end solutions to recover data and systems after accidents of different nature.
Disaster Recovery measures at InterNetX data center
As part of our DRP, we categorize the measures able to prevent accidents in our data center in Munich in three categories.

Preventive measures i.e. designed to prevent a certain event.
Investigative measures i.e. designed to detect unwanted events.
Corrective measures i.e. designed to effectively correct and restore systems after an accident.
Altogether, the operation of the data center in Munich is certified according to ISO/IEC 27001, the global standard for information security management, i.e. we apply the best practice to keep information assets secure.
Furthermore, we work with an established Business Continuity Management for all infrastructure components, such as building security, power supply, air conditioning, and many others. In addition we are about to get certified for ISO/IEC 27001:2013 in the name server infrastructure operation across several locations. Although the procedure is very similar, the challenge here is to make our standards adhere to different areas and different scenarios.
Our data center experts are regularly testing and documenting all safety measures, such as redundancy, backup strategy, restore/recover strategies, etc., and, if necessary, they derive or implement optimization and improvements. Thanks to these high standards and modern infrastructure and components, in compliance with the GDPR, we have been running our TIER 3 data center free from interference for more than six years.
InterNetX data center safety measures at a glance

Certified according to ISO/IEC 27001
24 x 365/366 security
Restricted access via single access entry system
Access only with fingerprint and palm vein scan
Video monitoring and motion surveillance, door locks with contact monitoring
Two independent early fire detection systems (VESDA) with CMS (type: ZETFAS), F90 fireproof walls and doors, gaseous fire suppression (type: INERGEN)
Detection lines for monitoring individual rooms and areas using smoke and/or dual detectors, optic smoke detectors / dual detectors/ionization smoke detectors
Emergency concept following SLA escalation management
Segmented networks and strict separation of different data streams
Daily backup of own systems
Firewalls implemented at all relevant network points
Backups are not the panacea to all IT dilemmas
A backup is usually done at a predetermined time interval, such as every 24 hours. In general, a data backup is always a good solution when the data or virtual machines are replicated to another device or location. But an off-site backup is useful only within a sustainable process if it can be restored in a certain time and to an available system with the associated infrastructure.
If, for example, access rights to systems are missing due to firewall settings, missing access data for the administration of the domains, etc., a prompt restore can not be guaranteed and thus putting the usefulness of an offsite backup in question.
Unfortunately, backups alone are of little value if you can't use them very quickly. If the server is down you need to start from scratch as backups do not offer automation capabilities: the server needs to be reinstalled, reconfigured, and possibly even replaced.
Our data center meets customer-specific requirements
The disruption of operations and the loss of corporate data result in a large loss of money as well as reputation. In the worst cases, such an event can drastically compromise the future of a business.
The Disaster Recovery Plan is an effective solution to protect the future of your business: it aims to restore normal operation after an unexpected event damaged part of the entire IT infrastructure. The importance of such a plan is even greater for companies that are heavily reliant on data.
The InterNetX data center in Munich is multiple redundant, certified, and relies on a solid Disaster Recovery Plan. It can be customized in detail according to the specific characteristics and needs of the client.
Furthermore, the scope and differentiation in the infrastructure and the products can be tailored so we can respond to customer-specific requirements. We can operate also within the DRP of our clients, creating a network of several connected elements who work together in harmony ensuring business continuity.
Thanks to InterNetX's critical strategies for Disaster Recovery, it is possible not only to restore backup data in case of emergency but also to bring the operations back to normal as quickly as possible. InterNetX has a concrete vision made of measures capable of facing any eventuality, neutralizing the threats, and thus guaranteeing the continuity and smooth operation of your business.
Do you want more information on how we keep your data safe?
Talk to our experts