Blogpost
in
domains
AI empowerment | A deep dive into the .ai domain
It's time to think outside the box and embrace the cutting-edge technology of the future.
Published by

Simone Catania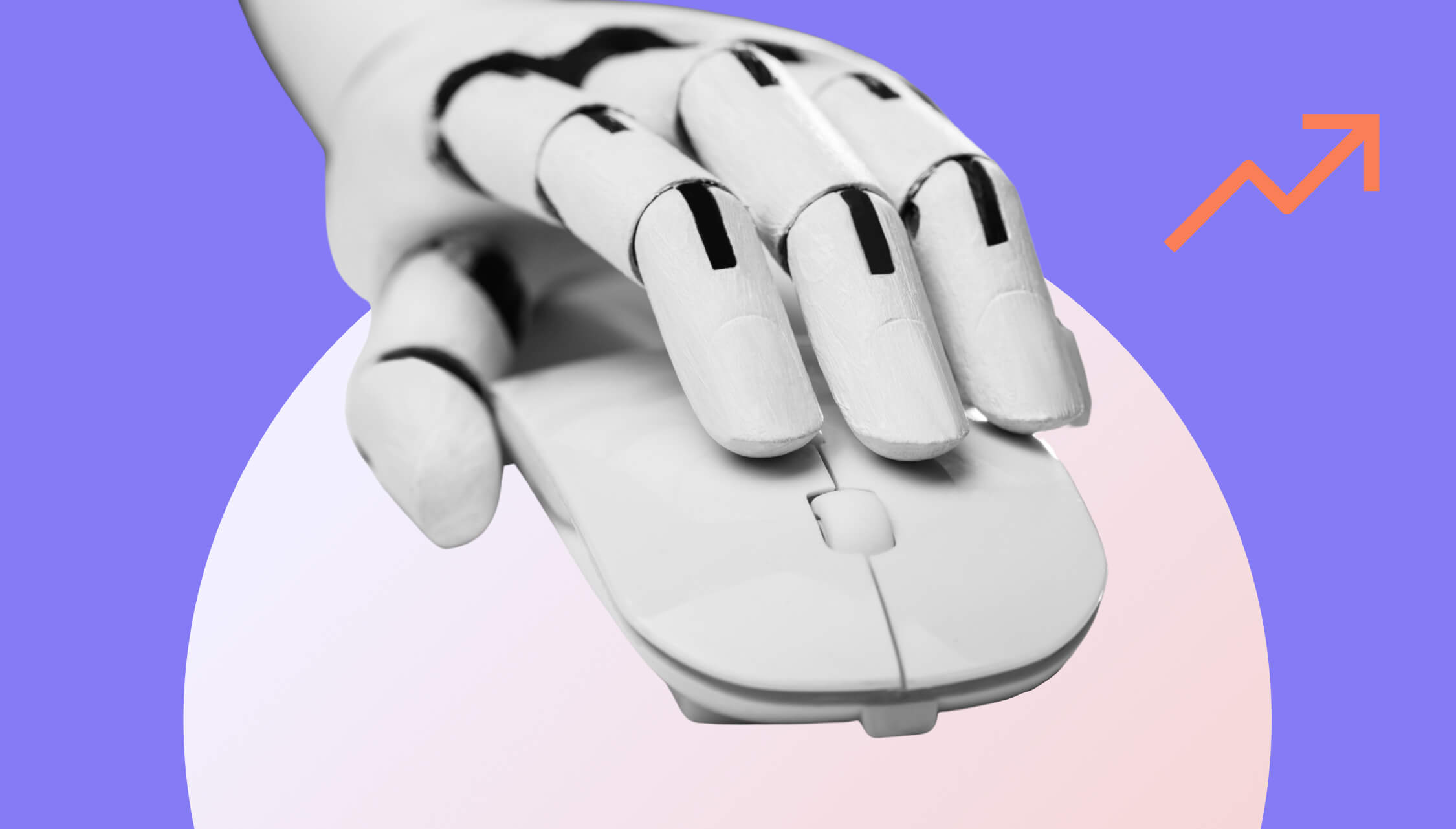 Artificial intelligence (AI) has taken the world by storm, revolutionizing our lives and work. But it wasn't until recently that it started to boom, rapidly making headlines. ChatGPT has pushed the boundaries and made AI more accessible, revolutionizing how it is used. Hundreds of new SaaS businesses have started offering AI-powered products and services.
Did you know that the tiny island of Anguilla is making it big in the domain registration business thanks to this technology? The ccTLD .ai is becoming the domain castle for AI! Although it was initially intended for another purpose, today this extension empowers the AI industry with fantastic domain names that impart a clear statement.
This article explores the world of .ai domains and discovers why they have become the go-to choice in a digital landscape crowded with generic addresses. So, what exactly is .ai and why is it generating so much excitement? Let's dive in and find out!
Exploring the .ai top-level domain
The extension .ai is the country-code top-level domain (ccTLD) for Anguilla, a small Caribbean island of the British Overseas Territory boasting just 91 square kilometers of land. But don't let its geographical location fool you – A and I are two vowels that are currently emerging with forces of technological might. It all starts with the clever acronym it shares with something extraordinary – artificial intelligence. Thanks to the 1:1 match with the abbreviation for artificial intelligence, the .ai extension has become the go-to choice for the flourishing AI industry, from tech enthusiasts and artificial intelligence startups to academic institutions and creative professionals seeking a distinctive online presence.
| | |
| --- | --- |
| Introduced | 16 February 1995 |
| TLD type | ccTLD |
| Status | Active |
| Registry | Offshore Information Services |
| Key person | Vincent Cate |
| Sponsor | Government of Anguilla |
| Registered domains | 248,609 (14 June 2023) |
| DNSSEC | No |
| IDN | No |
| Registry website | nic.com.ai |
Unraveling the story behind the .ai extension
Imagine a technological journey that began on 16 February 1995, when the Anguillan government introduced their ccTLD based on the country code assigned by ISO 3166-1 alpha-2. Initially, domain registrations were restricted to off.ai, com.ai, net.ai, and org.ai, but on 15 September 2009, second-level registrations within .ai became available worldwide and available to everyone, expanding the domain name's influence across borders. The impact of this groundbreaking journey is indisputable. On 14 June 2023, the registry declared an awe-inspiring total of 248,609 domains have been registered under .ai so far. The registration dynamics of this domain have witnessed unprecedented growth, especially in recent years. In fact, according to Domain Name Stat, .ai registrations have experienced remarkable peaks since 2023, propelled by extraordinary year-on-year expansion (+72,96% YoY growth).
Artificial intelligence has been on everyone's radar for years but the sudden content creation breakthrough we are seeing with ChatGPT will likely put AI on the front burner. [This technology] will boost interest in relevant domain names.

Ron Jackson DNJournal.com for Global Domain Report 2023
The positive impact of .ai on Anguilla's economy
According to a report by the New York Times, the sale of .ai domains in Anguilla made a whopping $2.9 million in 2018 alone! What's more impressive is that the revenue from domain name sales has quadrupled in 2022 compared to last year. Vincent Cate, who oversees the registry operations on behalf of the Anguillan government, explains that the growth in sales began several years ago. However, the demand for these domains skyrocketed when ChatGPT was introduced in November last year. The growth rate has surpassed over 100% compared to past years! To put this into perspective, Anguilla initially forecasted revenues of € 6.4 million for 2022 from domain name registrations but ended up with an astonishing €26 million or more in revenue. Although this trend has played a vital role, it's also important to consider that there was also an increase in the registration cost of .ai (around +17% YoY according to our internal data).
The government of Anguilla benefits greatly from collecting domain registration fees, which directly contribute to its treasury and enable powerful opportunities by generating revenue, assisting residents in accessing government services, helping local businesses grow, promoting tourism on the island and marketing Anguilla around the world.
What makes .ai unique?
Choosing a great domain name is a key factor for success in the digital era. Aside from its futuristic appeal, a domain under .ai provides many unique advantages that directly feed into the AI boom and help you stand out online. Whether you're a tech startup, an AI enthusiast or a forward-thinking organization, running a .ai domain opens up a world of possibilities to showcase your expertise in the ever-growing high-tech field and position your business as a leader in the AI-driven future. Here are a few reasons to consider registering a .ai domain.
Provides a tech-friendly image
The .ai extension is associated with artificial intelligence (AI) and is widely recognized in the tech industry. With a domain under .ai, you can create a tech-savvy and innovative image for your website or business.
Enhances brand identity
The unique .ai extension can help your domain name stand out, making it more memorable and recognizable. This can be especially beneficial if you are in a highly competitive industry.
Aligns with AI-focused businesses
If your company specializes in AI-related products, services or technologies, a .ai domain name can help you establish a solid online presence within your niche. It can attract like-minded customers, investors or partners interested in AI.
Offers greater domain name availability
Due to the relatively new nature and trendiness of .ai, domain names are generally more available than traditional extensions like .com or .net. This can allow you to secure a shorter or more relevant domain name for your brand or investments.
Enhances search engine recognition
The distinctiveness of the .ai extension makes your domain name stand out, capturing the attention of search engines and users alike. This increased recognition can result in higher click-through rates and improved organic traffic to your website.
Allows for creative use of domain names
The .ai domain extension lends itself well to creative and playful domain name choices. It enables you to incorporate AI-related terms or abbreviations into your domain name in a way that can be catchy and distinctive.
Enables domain hacks
A domain hack is when you creatively use the domain extension to form a memorable phrase or play on words. With .ai, you can register unique and creative domain hacks that align with your brand or industry.
While it's clear that .ai domain names offer numerous advantages for businesses, it's important to remember that the ultimate goal is to choose a domain name that not only capitalizes on these benefits but also reflects your brand. It should be easy to remember and align seamlessly with your overall marketing strategy. By carefully considering these factors, you can make an informed decision and secure a .ai domain that boosts your online presence and delivers long-term success for your business.
The fascinating features and potential of .ai
Are you fascinated by domains that can offer cutting-edge features and boundless potential? The .ai top-level has it all! Thanks to the power of Dataprovider.com, we have access to a wealth of information on this exciting TLD. Our dataset contains 70,547 records of .ai domains as of June 2023. By examining this dataset more thoroughly, we can uncover valuable insights into these factors and learn more about the unique characteristics and applications of .ai domains.
Of course, geolocation, response, subdomains and redirects are important considerations for any top-level domain and .ai is no exception. But it's not just the technical aspects that make .ai so fascinating!
Where are .ai domains hosted?
Did you know most websites with a .ai domain are hosted in North America? According to the available data, North America takes the lead, hosting 62.5% of all registered .ai domains.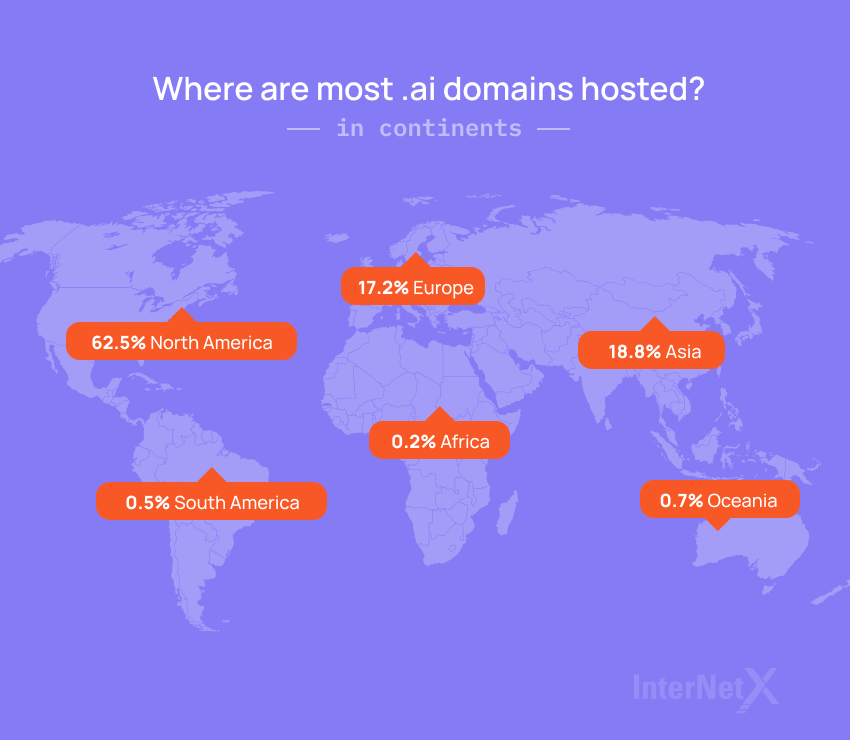 An impressive 60.2% of all .ai domains are hosted in the US, showcasing a significant disparity between Asia, Europe and other regions. Specifically, India stands out as the leader in the .ai domain game in Asia. While South America, Oceania and Africa host only a tiny percentage of .ai domains, it's still interesting to note the global distribution.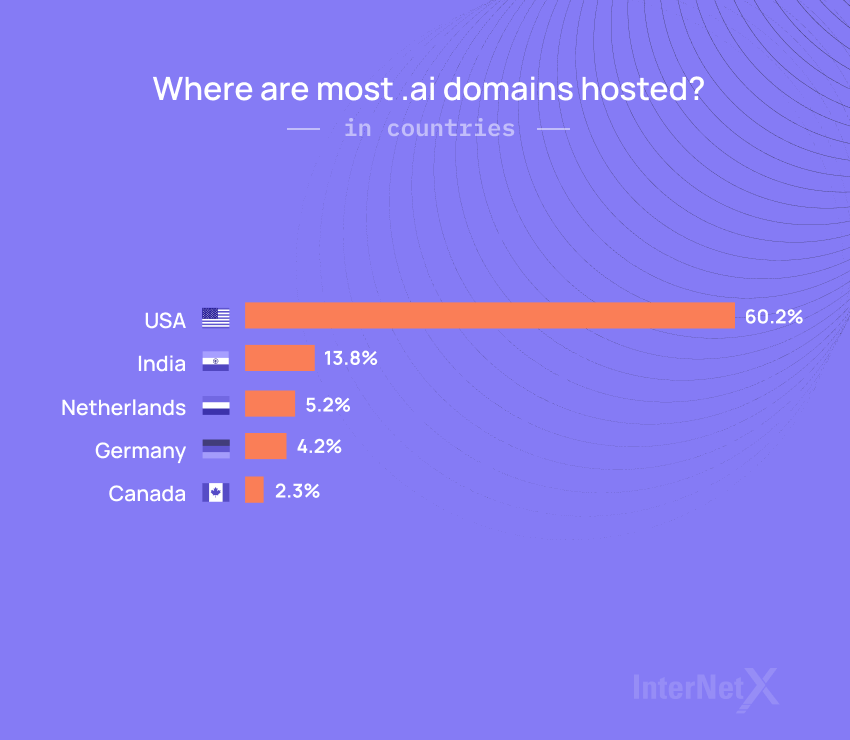 Analysis of .ai domains: response, website availability, subdomains and redirects
By analyzing the dataset at Dataprovider.com, 55.4% of websites under the TLD .ai are accessible and can be indexed by the crawler. However, 16% of the websites resulted in an access denied response, indicating that the crawler was not authorized to gain access.
Additionally, 16% of the websites returned a host not found response, which suggests that no record is available in the DNS. The remaining 12.5% of websites that the crawler encountered were redirected to a different domain from the one initially requested. It's interesting to note that 73.2% of .ai domains have developed websites. A very high percentage compared to other domain extensions. This figure indicates that registrants prefer to use this TLD for building their online presence.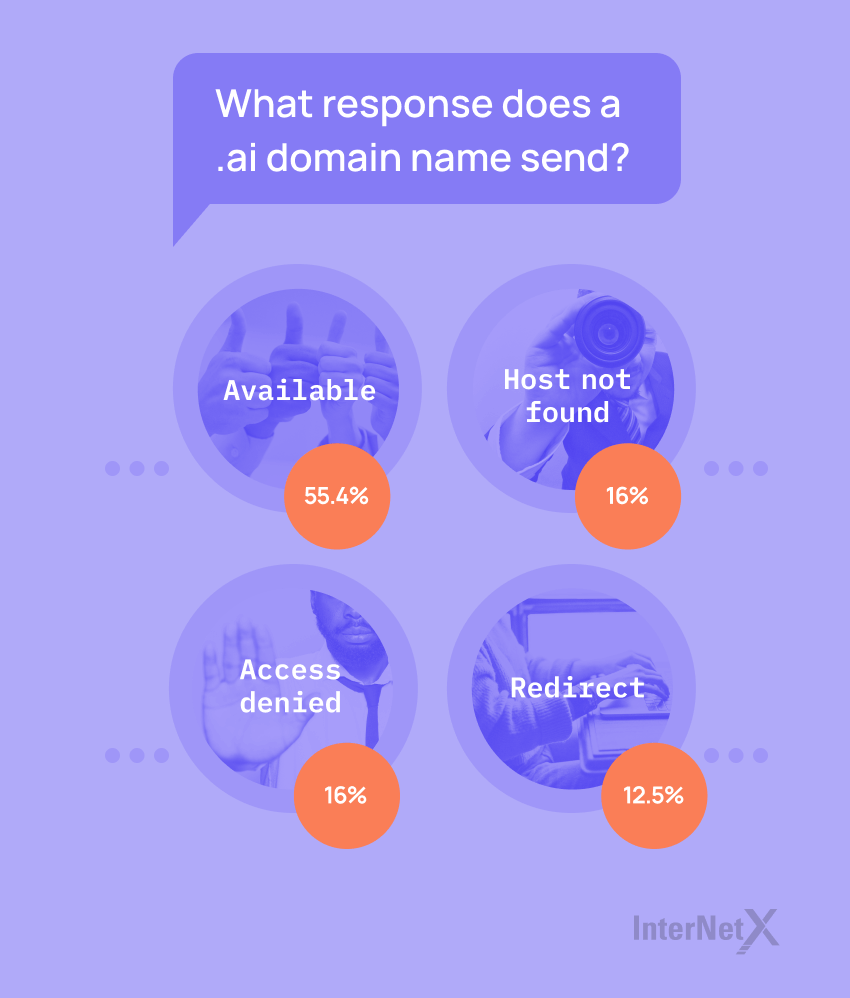 When it comes to subdomains, .ai has a few surprises in store. The most common subdomain for domain names under .ai is "app," which is used for  a whopping 27.8% of all .ai websites. The world of applications is thriving in the .ai domain!
The well-known "www" subdomain is closely behind, accounting for 12.8% of the total. It seems like the good old prefix is still holding its ground. These figures contrast starkly against the broader domain landscape, in which "www" is the go-to subdomain for 37.2% of domains, while "app" is a less popular choice, accounting for just 2%.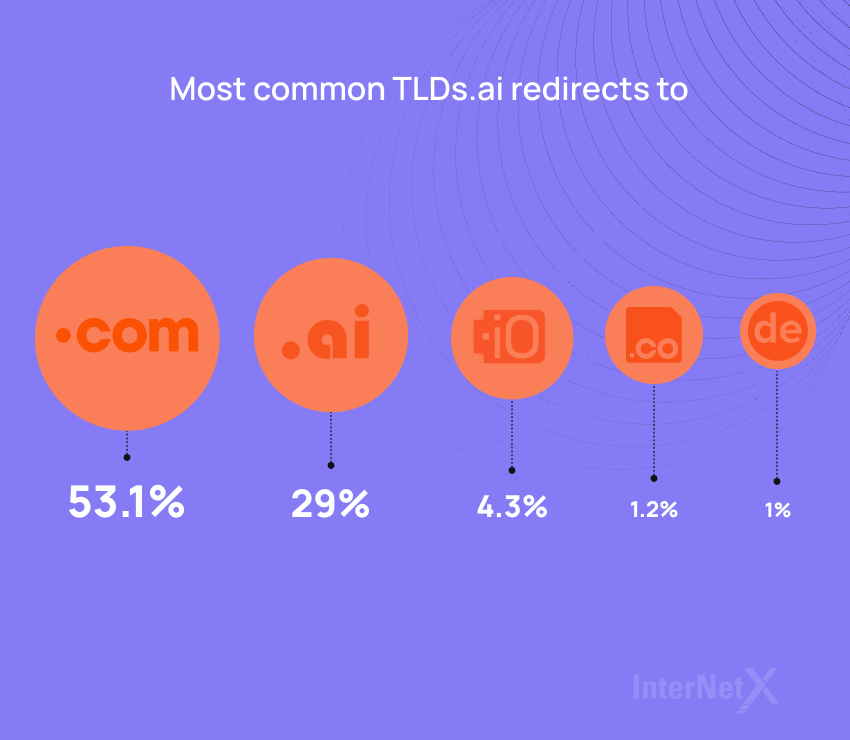 These statistics reveal valuable insight into the nature of websites under .ai. With the prominence of the "app" subdomain, many businesses in this domain are heavily involved in developing and deploying applications. It's safe to say that many of these websites provide Software as a Service (SaaS) solutions or host mobile applications.
The power of .ai domains in the aftermarket
In the exciting and active domain aftermarket, .ai is gaining a respectable position. Starting with the first-ever transfer of .ai domains on Sedo in 2012, the hype around .ai domains has only intensified. In 2017, the registry lifted certain restrictions, making it even easier to register and trade these coveted domains. As of June 2023, the keyword "AI" holds the number one position of top 10 search terms among the several million search queries made through Sedo.com. But we'll let the numbers from Sedo about the sales of .ai domain names paint an even more compelling picture. These remarkable sales showcase the soaring value of investing in .ai domains and demonstrate this TLD's immense versatility and global influence.
Top 10 most expensive .ai domains – sold at Sedo.com (August 2023)
| | |
| --- | --- |
| npc.ai | $250,000 |
| expert.ai | $107,293 |
| analytics.ai | $50,000 |
| samur.ai | $50,000 |
| human.ai | $45,000 |
| board.ai | $29,438 |
| gene.ai | $25,148 |
| radius.ai | $21,500 |
| co2.ai | $15,107 |
| grab.ai | $12,500 |
The graph below illustrates the remarkable growth in the volume of .ai domain sales. As of June 2023, sales have surged tremendously, surpassing the combined figures of 2021 and 2022. This seemingly unstoppable upward trend shows no signs of slowing down.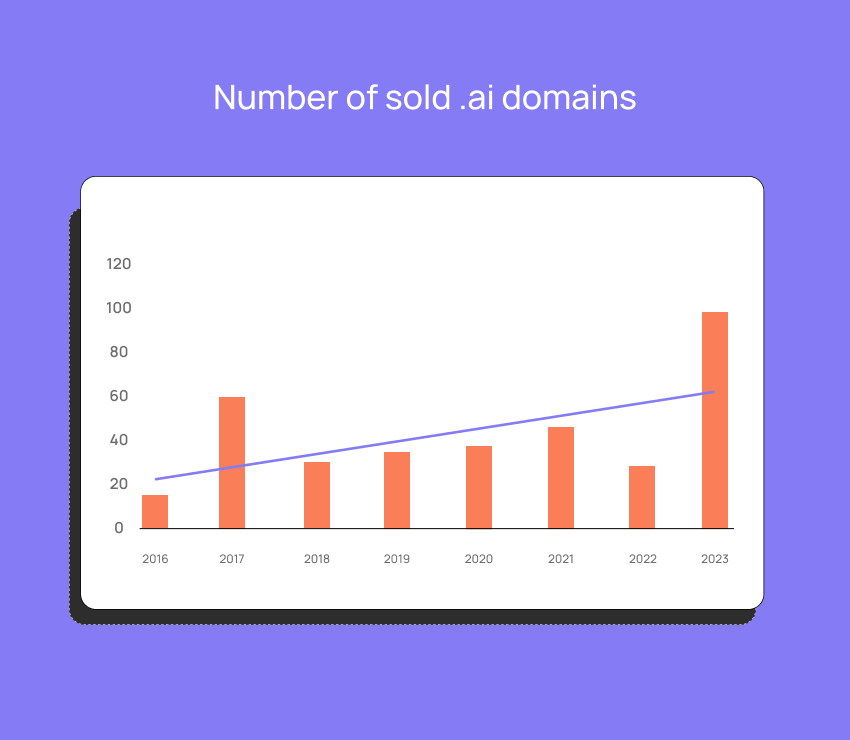 At present, Sedo offers an impressive average median value of $3,000 for .ai domains, emphasizing their considerable worth. This starkly contrasts with the globally most popular domain extension, .com, which typically values around $300. Moreover, the average price for .ai domains exceeds $6,000, nearly double the value of .com domains.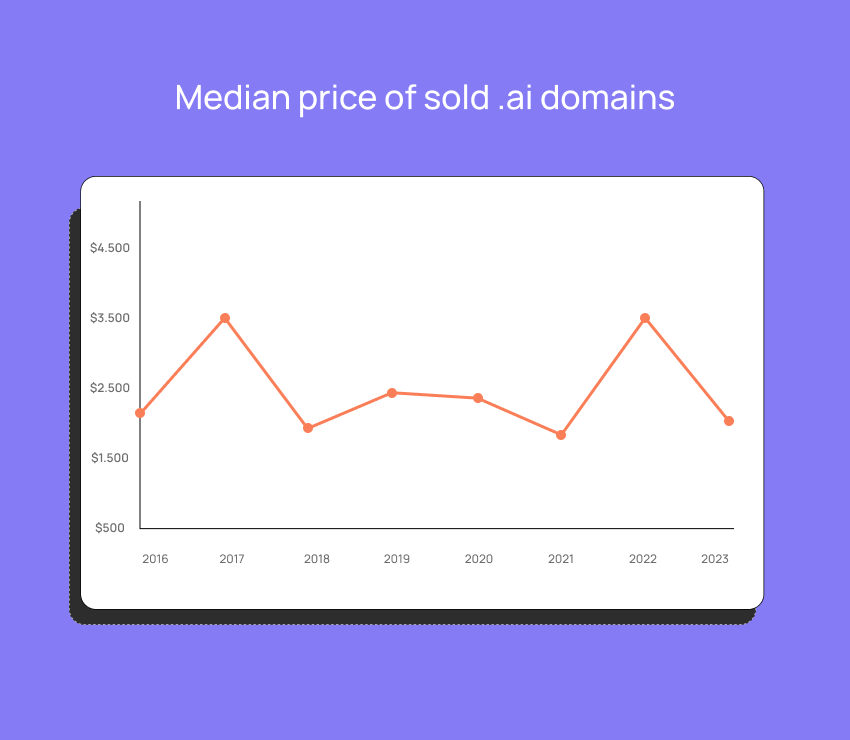 It's worth noting that the median value disregards any record-breaking sales, ensuring a fair market representation. Imagine the potential of these valuable and descriptive .ai domains that are still up for grabs. Sedo alone boasts a collection of approximately 20,000 attractive .ai domains currently up for sale.
Amidst the continuous evolution of digital technology, the .ai domain extension could gain  increasing prominence as the distinguishing signature for artificial intelligence companies and initiatives. It has the potential to follow the trend set by .io, due to a surge in AI-powered businesses and the continuous demand for AI-driven solutions.

Derick Clegg, Senior Sales Consultant International, Sedo.com
Standing out in the digital realm with a .ai domain
Whether you're a startup, a seasoned business or an individual looking to make a strong statement, the .ai TLD offers endless possibilities. From attracting tech-savvy customers to establishing yourself as a thought leader, .ai can help you make your mark in the digital realm. In a world where memorable domain names are increasingly hard to come by, .ai presents a unique opportunity to grab attention and leave a lasting impression. The futuristic connotations associated with artificial intelligence make the .ai TLD perfect for businesses at the forefront of innovation. But it's not just limited to tech-related ventures. Creative professionals, educators, and researchers can also benefit from the .ai TLD. Artists, designers and musicians can utilize .ai to showcase their imaginative work, while academic institutions can establish a distinct online presence for AI-focused programs and research initiatives.
So, are you ready to harness the untapped power of .ai domains? Prepare to embrace a future in which cutting-edge technology and endless possibilities converge. Step into the world of .ai and discover the key to unlocking your online success!