Blogpost
in
domains
Reasons why the TLD .io is trending
If you are involved with marketing and branding for the tech industry and have always kept up with new trends and the latest gimmicks, you have surely come across .io. Here are 7 reasons why the extension .io is becoming increasingly popular among tech innovators.
Published by

Simone Catania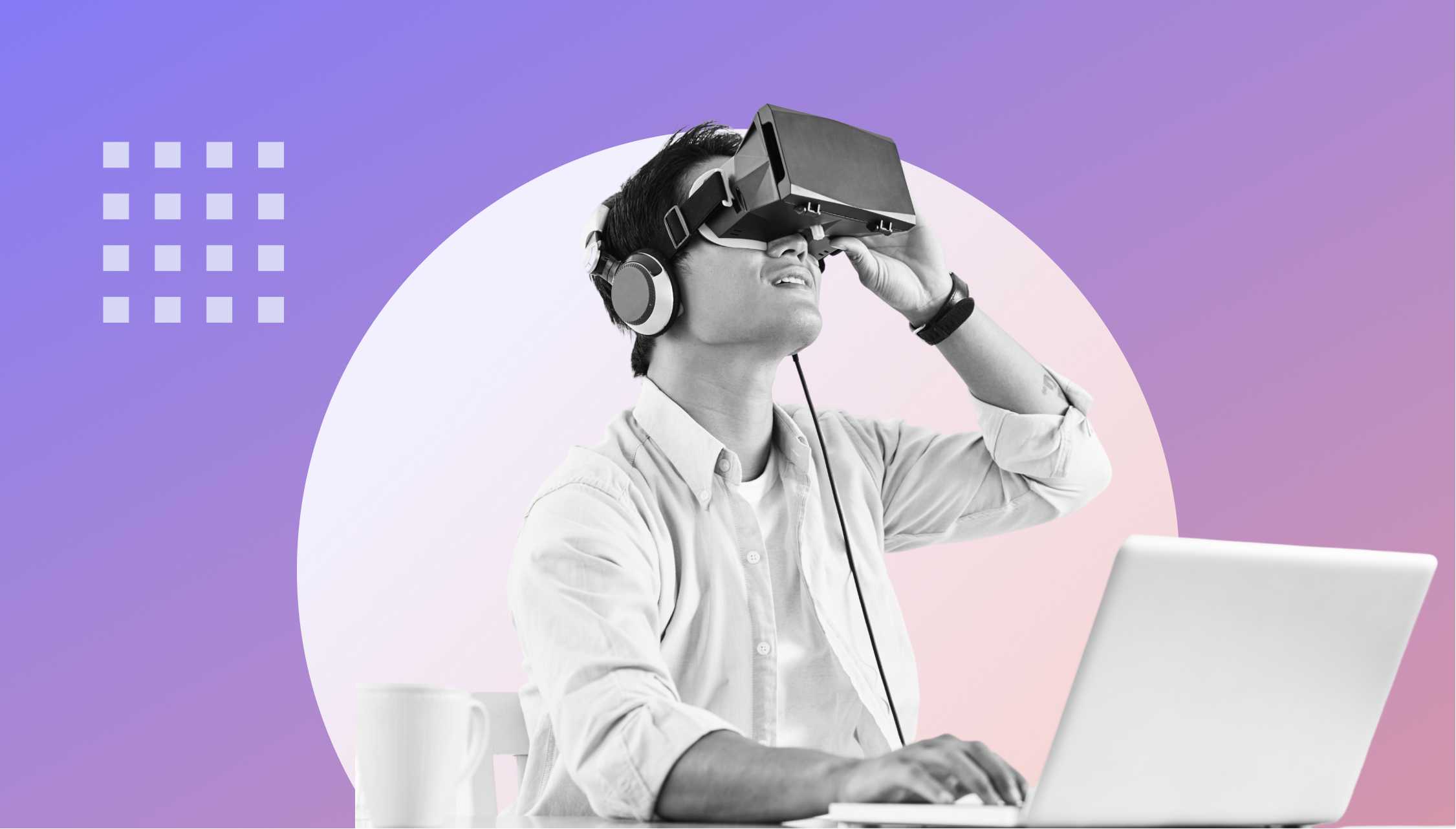 If you've ever registered a domain name, you know that there are a multitude of different top-level domains (TLDs) to choose from. The options are endless: from legacy gTLDs like .com and .net to ccTLDs and hundreds of new gTLDs.
Several unique options have become popular recently, especially in niche markets. The ccTLD .io is a good example. The tech industry is one of the main drivers behind the popularity of this TLD due to its association with input/output (I/O) technology.
But it's not just tech companies that are using .io TLDs. The domain name is also popular among gaming and esports websites as well as cryptocurrency and blockchain companies looking to stand out in a crowded market with a unique domain name. Let's look at how .io is making its way from the Indian Ocean to the URLs of tech companies.
.io is a TLD with great branding opportunities
The popularity achieved by some country code top-level domains (ccTLDs) is not not  due to their representation of a particular country but instead because the two characters connect to other meanings or abbreviations. The domain extension .io is one of these examples. Although technically a ccTLD, the popularity of .io domains is due to the use of "I/O" as an abbreviation for "input/output" in computer science.
In 1997, IANA assigned .io, the country code of British Indian Ocean Territory (BIOT), to the British entrepreneur Paul Kane, along with .ac (Ascension Island), .sh (St. Helena) and .tm (Turkmenistan). According to WHOIS information in IANA, the first domain name under .io was registered in 1997, when Levi Strauss & Co. registered the domain levi.io.
The ccTLD .io has never been used for its intended purpose of country code as the BIOT, seven atolls between Tanzania and Indonesia with a total of 60 km2 (23 square miles), is home to only 3,500 people – and this is only due to their work in the military. Paul ran the registry privately under the top-level domain custodian Internet Computer Bureau (ICB), based in the United Kingdom, but sold it for $70 million to Afilias (today merged with Donuts Inc. to form Identity Digital) in 2017.
Several ccTLDs are not popular because of the country they stand for but because the two characters of the domain extension connect to other meanings or abbreviations. Read more about ten ambiguous ccTLDs with excellent marketing potential.
What exactly does .io stand for?
While .io may technically be a ccTLD, it's not used for its original purpose. In recent years, tech companies have started registering .io to leverage their digital presence because of the association with Input/Output. The abbreviation I/O stands for Input/Output, and it's a term that is used in the tech industry to refer to the ability of a device or system to receive data from outside sources and send data to external devices. Input/Output is an essential concept in tech because it is often used to measure how quickly a device or system can process information.
The faster the device can process information, the better it will handle large amounts of data, which can be especially beneficial for those who regularly work with large amounts of data.
Why is .io increasingly popular?
According to Domain Name Stat, as of March 2023, there are 1,089,147 registered domain names under .io, with 32% YoY growth. Other reasons why this extension has become so popular among businesses in recent years are the cost-effectiveness and comparative ease of registering a .io domain name.
Neither natural nor legal persons are required to be residents in the UK overseas territory for successful registration. Only second-level domains like .com.io or .net.io are reserved for residents. In contrast  to more conventional TLDs, which are now saturated, the ccTLD .io is accessible and its modern, trendy look helps startups and innovative businesses create unique web addresses for sites, landing pages and email accounts and offers with short and memorable .io domain names.
And it is not only tech startups that use them. Many businesses, including game developers and actors from FinTech and the blockchain industry, register their domain name with a .io extension because it conveys an image of modernity and innovation. Their domain names under .io appeal to consumers, especially millennials and Generation Zers, who increasingly seek brands that reflect their values and interests in technology.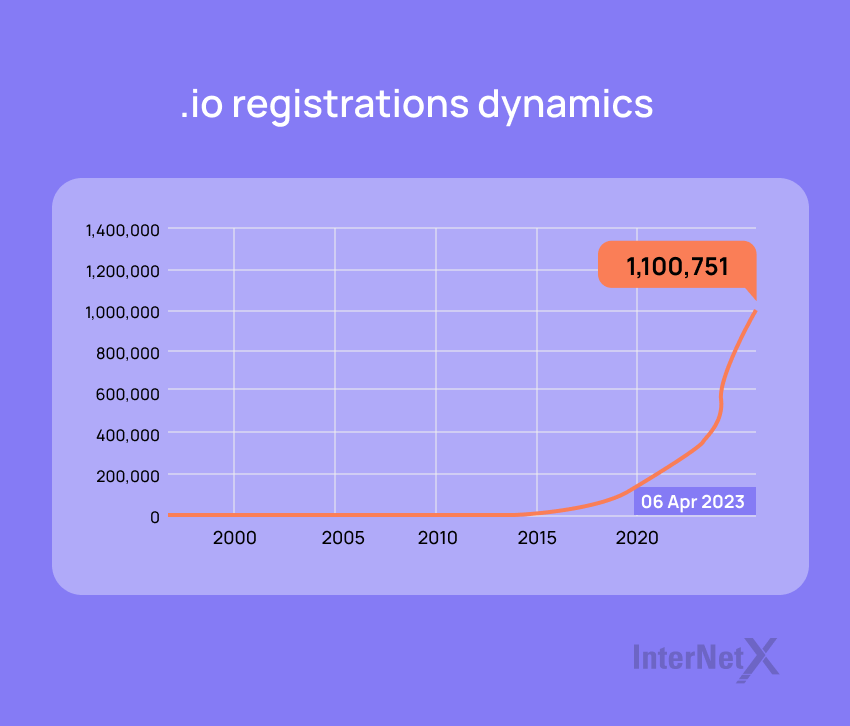 Why you should register a domain name under .io
Registrations for .io domains are gaining momentum as more registrants opt for this top-level domain (TLD). If you own a tech or innovative business, consider registering a domain name under .io for your online venture. Over the past few years, .io has emerged as a preferred TLD for tech startups, online businesses and personal websites. Wondering what makes it so popular?
Let's explore seven great advantages of a .io domain: from boosting your online visibility to a remarkable branding opportunity and how it can seamlessly integrate with your online presence.
1. .io has established itself in the tech industry
First, .io is strongly associated with the tech industry since I/O is a common abbreviation for Input/Output in computer science. This makes the term trendy, especially among tech startups. This association can help your startup establish credibility and legitimacy in the eyes of potential customers and investors.
2. .io is perfect for domain hacks
Many brands associated with the tech and startup culture are hacking .io into their names. Combining second-level and top-level domains into a word is called a domain hack. Since many words end with the letters "io," such as radio, audio or portfolio, .io is a popular choice for domain hacking.
3. Google doesn't treat .io like a ccTLD
It is well known that domains under a ccTLD often have ranking advantages in the country concerned, but in other countries, they tend to rank less. It works differently with .io. Even if it is a ccTLD, Google knows that .io is of interest far beyond the borders of the British overseas territory and therefore does not use geotargeting measures.
4. .io offers shorter domain names
If you are familiar with domains, you know that a ccTLD always consists of two characters, whereas gTLDs consist of three or more. Since Google considers .io – as mentioned above – as a kind of gTLD, the domain extension offers the advantage of being shorter than the "actual" generic alternatives, offering a clean and minimalist look. Furthermore, .io is a relatively new TLD, meaning there is still much room for creative and memorable domain names. This is especially important for tech startups, as having a unique and easy-to-remember domain name can help your company stand out in a crowded market.
5. Game developers have discovered .io
The extension .io is a versatile TLD used for a variety of purposes. While it is commonly associated with technology, the TLD is also used enthusiastically for other industries, such as gaming. This trend has led to the creation of a category of video games: .io games typically refer to multiplayer browser games that became popular with the release of Agar.io without downloading something or creating an account.
6. .io also adds Italian meaning or flair
Did you know? In Italian, the term "io" stands for the pronoun "I". .io is therefore also ideally suited for websites with an Italian target group. You can create domain hacks in Italian to realize a self-explanatory webpage and to communicate, "Here it's all about me."
7. Many .io domains are still available
One advantage of .io is that it allows for more creative freedom than traditional TLDs, such as .com and .net. Registrants with these domains often have to compromise on naming, which can make their sites less attractive.
Find perfect domains
The geolocation of .io domain names
If you're considering a domain name with .io, this data can give you a better sense of which countries and regions are most likely to use this ccTLD. The web crawling platform Dataprovider.com has tracked 655,398 hostnames with the .io TLD as of February 2023.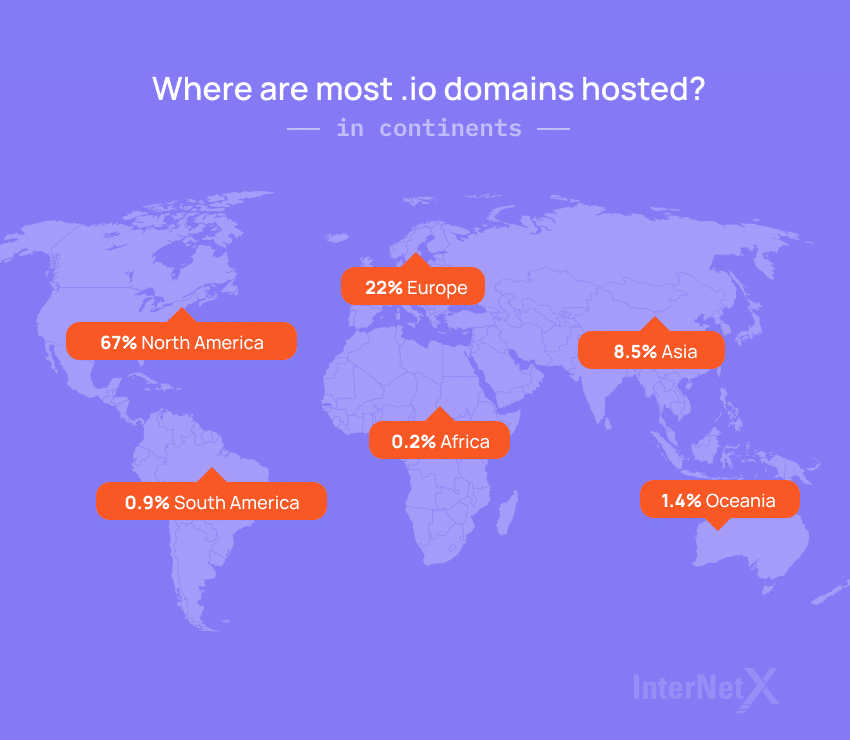 Most .io websites are hosted in North America, with 67% hosted on the continent. Europe is the second most popular continent for .io registrations, accounting for 22% of all registrations. Africa is the least popular continent for .io registrations, accounting for just 0.2%. With respect to individual countries, the United States is by far the most popular country for .io websites, accounting for 63.1%. India and Germany are tied for second place, with 4.3% each.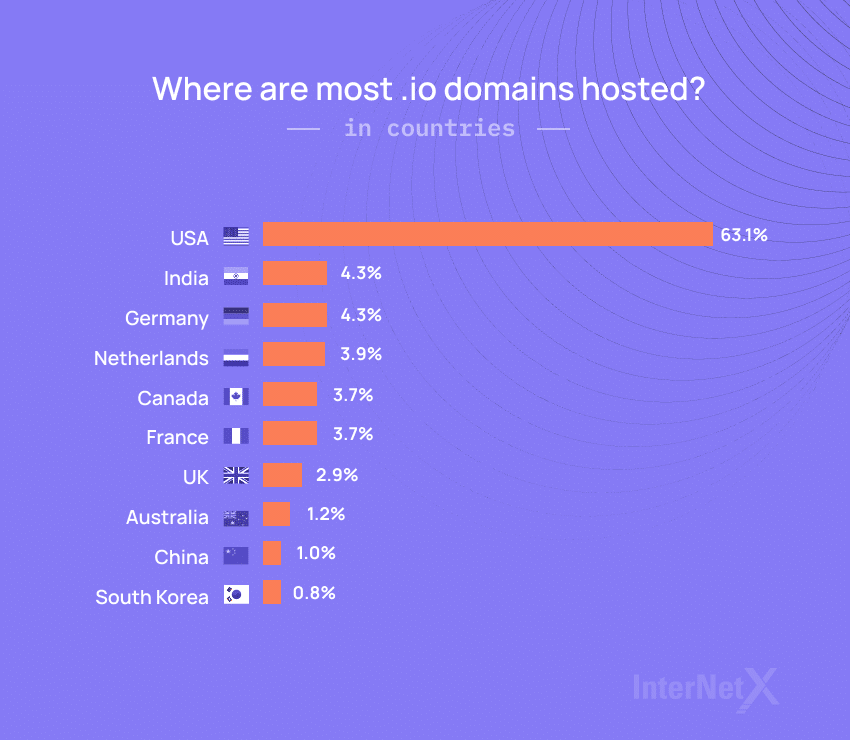 The status of .io domain names
If you're considering purchasing a website with a .io domain name, you might wonder how well these sites perform. Based on recent data, just over 40% of websites with a .io domain name are available for indexing by search engine spiders.
However, it's important to note that a significant portion of these sites (26.2%) were not found by the spider at all. This could be due to various factors, such as the site being temporarily down or the domain no longer being used.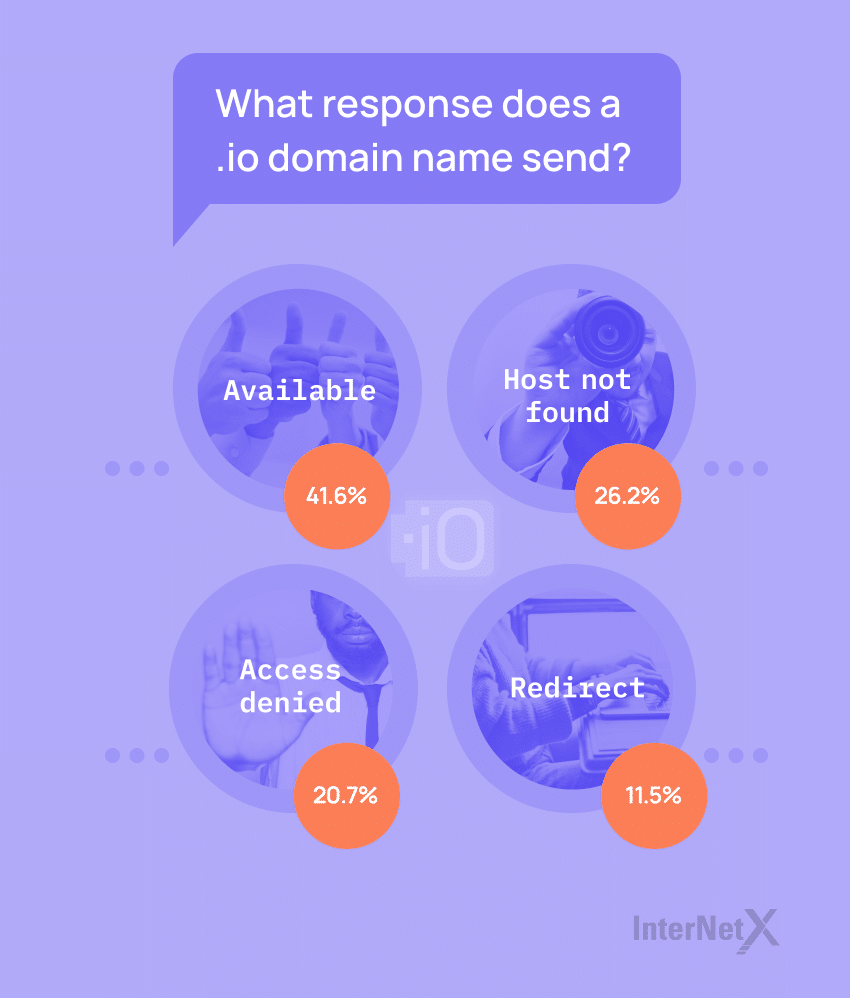 Another 20.7% of sites returned an "access denied" response, which could mean that the site owner has restricted access to the spider or that technical issues are preventing the spider from accessing the site. Finally, 11.5% of sites had a redirect response, which could mean that the website has moved to a new domain or has issues with the site's URL structure.
The future of .io extension
So, what does the future hold for .io?
It's safe to say that its popularity will only continue to grow. As the tech industry continues to evolve and expand, more and more companies will be looking for unique domain names that help them stand out. And with its strong association with technology, .io will be a top choice among tech companies and gaming and blockchain-related websites.
Domains under .io cover a wide spectrum of needs. Looking for a suitable domain extension for your tech startup? Want to market a .io game or position an Italian website? Create a domain hack with .io? Or wish to benefit from advantages such as high availability, unlimited Google ranking or TLD brevity? With .io you have a versatile ccTLD at your disposal – of course also at InterNetX.
Register .io in AutoDNS