Blogpost
in
domains
15 answers about registering a successful domain name
For business, for educational purposes, for fun. Every digital project is built on one essential element: a domain name. Here you will find the answers to the most common questions for registering a successful domain name.
Published by

Simone Catania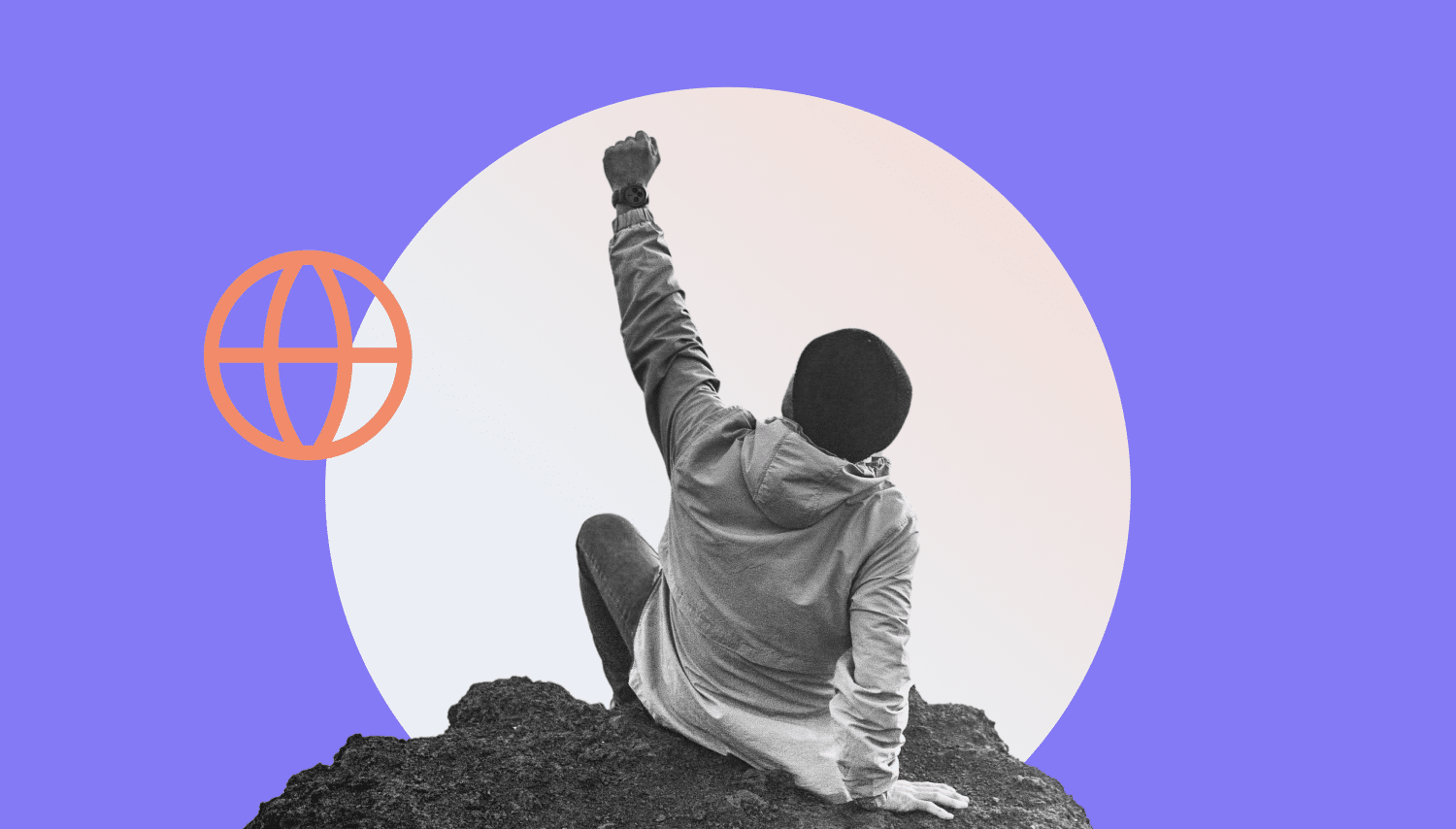 Registering a domain name is an essential step when you are launching a website. It is the calling card of your project, the name you are giving it! This is why choosing the domain name is a step you cannot take without careful consideration. If you are on the first steps of your digital journey, you might feel uncertain about domains and how to choose the best one for you. We want to provide detailed answers to all your relevant questions and clarify ideas about what it means to have and register a successful domain name. Check it out!
1. What is a domain name?
Like a physical address in the offline world, a domain name is the address users write in the browser bar to access your website on the internet. It is an alphanumeric string that connects your website to the hosted server through a process called DNS resolution. Its resolution in the domain name system (DNS) is a complex process, as each computer, each domain and each IP address must be unambiguously identifiable. How does this work? This is where the so-called fully qualified domain name (short FQDN) comes into play.
2. Why do I need a domain name?
A domain name is absolutely unavoidable if you want to launch a web presence. Without a domain name, users would have to type long numerical IP addresses instead. Thanks to the invention of the DNS in 1985, users can access and navigate your website with addresses and URLs that are human-friendly and easy to remember instead of with a long series of numbers.
3. What is a domain made up of?
A domain name starts after the protocol sign https:// and ends with an extension like .com, .de or .shop. We can divide it into three parts. Let's take a closer look at these using www.internetx.com as an example.
.com – the last part of a domain name is always the top-level domain (TLD). Nowadays, there are over 1,500 types of extensions you can choose from.
.internetx – this is technically the subdomain.
www – this is a sub-domain prefix for the World Wide Web that established itself as standard in the URL to indicate the service they provide, in this case a website. Its use is not required or mandatory and many websites skip it.
4. What TLDs are available?
In March 2009, we counted 280 TLDs. The situation has changed dramatically in the last few years. As of October 2021, the IANA Root Zone database lists 1,589 TLDs. We can categorize TLDs as follows:
ccTLDs: two-letter domain extensions with code of a country or territory in line with ISO 3166. Examples are .de for Germany, .jp for Japan or .us for the United States. Among these, 60 are IDNs (Internationalized domain name) with non-Latin scripts.
gTLDs: These TLDs are composed of three or more characters. They can be divided into subcategories:
infrastructure TLD: .arpa is used by the Internet Architecture Board to test and maintain the internet infrastructure.
grTLDs: .biz, .name and .pro can only be registered for specific objectives.
"classical" extensions available before 2010 such as .com, .org, .net.
sTLDs: sponsored domains are available only for corporations or organizations such as .gov, .travel, .coop.
new gTLDs: all TLDs launched from 2013 such as .shop, .online or .xzy. GeoTLDs and cityTLDs such as .asia, .berlin or .nyc also belong to this group.
5. Who is responsible for the whole DNS?
The non-profit organization Internet Corporation for Assigned Names and Numbers (ICANN) coordinates the databases related to the namespaces and the numerical spaces of the internet. Its ultimate objective is to guarantee a stable and secure internet. They launch and organize the initiatives for new domain extensions.
6. Who are registrants, registrars and registries?
These are the three actors involved in the process of domain name registration. The person who registers the domain name is the registrant. This person will reach out to a registrar, a provider that has a contractual relationship with ICANN and agreements with registries. Finally, the registry is the organization that manages the database of one or more TLDs.
AutoDNS – The Domain Platform
7. How do you choose the right domain name for your project?
Choosing the right domain name is very important. You want to find an attractive name, which possibly matches your business's name or the focus of your project. For the central part of your domain name, here are a few tips:
You can insert the name of your organization or a keyword that reflects the focus of your project. You can opt for an Exact Match or Partial Match Domain.
For landing pages or personal projects, choose a catchy name with a strong impact.
Tip: Are you looking for a particular domain name? The Domain Studio in AutoDNS allows you to apply various filters to find the perfect domain name matching your favorite keyword and more.
8. What are the characteristics of a successful domain name?
To get the most out of your domain name, make it short, easy to pronounce and unique. It should be easy to remember since you want it to stick in your users' minds. Furthermore, it should be easy to type and pronounce – so avoid complicated words or hyphens. Last but not least, it's an extra advantage if the domain name has a distinctive and catchy sound!
9. What is the best length for a domain name?
A domain name can have a minimum of 1 character and a maximum of 255 (FQDN). That gives you enough characters to give your creativity free rein. But, is a long domain name good for your website? Probably not.
It's no secret that short domain names with 4-5 characters are memorable, include a clear keyword and are therefore often valued at millions! If you are a domainer, a short domain is always a great investment! The shorter your domain name, the easier it will be for your users to remember it!
Our tip: Opt for a short and clear domain name. We advise you not to exceed 15 characters. And keep it simple!
10. Which extension should you choose for your website?
Due to the wide range of TLDs available, you might wonder what the best extension for a successful domain name is. In our opinion, there is no right and wrong choice when choosing a domain extension. It all depends on the kind of experience you want to create.
A classic extension like .com or .de seems to be the preferred choice for many. Probably because we have been exposed to these extensions for a long time and users tend to find them more reliable at first glance. At the end of the day, all domain registries undergo the same strict requirements, ensuring the highest security level.
If you want your digital project to perfectly match your working area or want to give it a catchy combination, you should consider new extensions. You can register a .ai domain for a business related to artificial intelligence or .tech for your blog about hi-tech trends. Or what about .pizza for your pizzeria?
Find perfect domains
11. How much does a domain name registration cost?
There is no fixed price for all TLDs. The registration costs depend on the domain extension. Some extensions have accessible prices starting from €0.99, while others can go up to millions when the domain is classified as premium. Some new gTLD extensions have higher prices, because they target a specific professional field and become a truly digital asset.
InterNetX regularly offers special discounts to save up to 99% on the registration fee. Check out current offers and register your discounted domains now!
12. What are premium domains?
Premium domains are particularly high-value domains, identified by the registry and sometimes by the registrar. They embody all the requirements of a perfect domain name, i.e. they are short, easy to remember and usually contain a precise keyword or a meaningful, brandable name. Costs for premium domains are considerably higher than standard ones. Of course, they are a real asset in every domain investor's portfolio as well.
13. The domain name you wish to register is already taken. What can you do?
If your chosen domain name is already occupied, it means someone already registered it before you. You should now find an alternative solution. For example, if you are trying to register a domain name that matches your company's name, the new gTLDs provide you with so many possibilities that it is hard not to find a free domain name that suits your digital project. If the .com or your ccTLD is already registered, why don't you look for .online or .web?
Alternatively you can apply for the Sedo Broker-Service A personal broker negotiates with the domain owner on your behalf and without revealing your identity. Sedo handles the secure change of ownership.
Another option is using a backorder service to reserve a domain name early on and improve your chances of getting that domain name immediately when deleted, right before it becomes publicly available, as the service automatically starts the registration.
14. Is your domain name part of your trademark?
A domain name registration does not qualify it as a trademark since this procedure does not constitute separate specific intellectual property (IP). Domains and trademarks have two different protection regimes. Still, there is a procedure to include your domain name in your brand to match specific requirements and be officially registered as a trademark, either without the extension (e.g. Apple) or with the extension (e.g. Booking.com).
Do you want to protect your brand in the domain universe? The Trademark Clearinghouse (TMCH) Service checks and transfers all trademark data to the TMCH database. Thereby facilitating the online protection of your trademark under almost all gTLDs.
15. How can you ensure domain security?
With cybercrime increasing, ensuring the highest level of security for your domain is essential. There are many ways to protect a domain name, one of them being DNSSEC.
If you want to learn more about this internet protocol, please read our InterNetX blog article to domain backordering.
Register your domains today!
Now that you know more about choosing a domain name, all that's left is to find and register the right one for your project. If you'd like more details, feel free to get in touch with our Partner Managers.
Ready to find and register the perfect domains?
Go to AutoDNS