Blogpost
in
domains
Who can profit from domain reselling?
Product portfolio expansion and an increase in turnover and profit margins are the main opportunities IT professionals take into account when considering domain reselling. But the practice of buying and reselling domains has much more to offer. Who can profit most from domain reselling? And what opportunities does it offer? We have the answers for you.
Published by

Simone Catania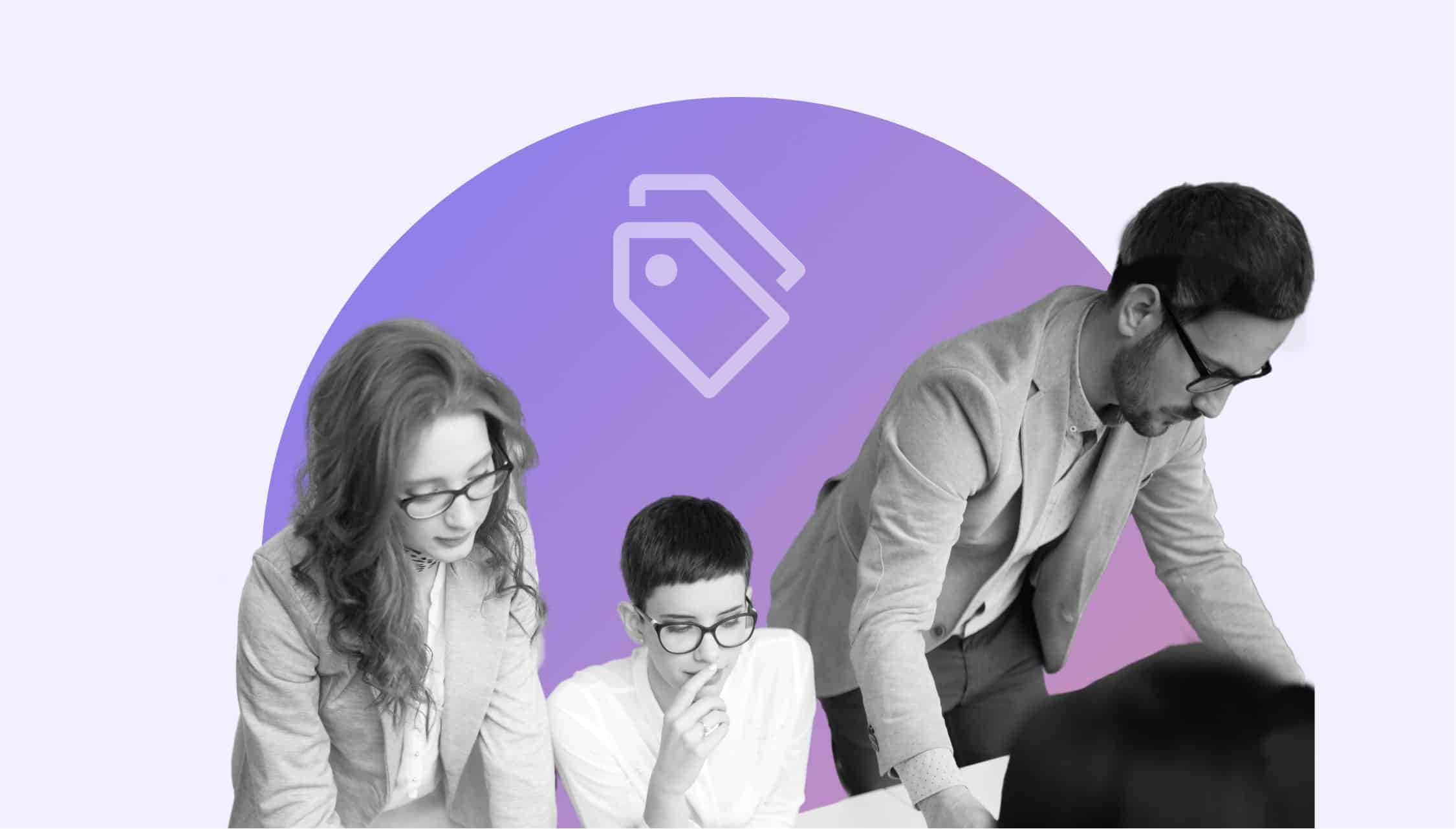 It is a multifaceted business that can be run with various core or side business models and target different niches. Some may approach domain reselling as an investing business; others may offer collateral services to register and manage domain names for their clients. Thanks to ready solutions for the entire customer cycle, realizing your domain business, from setting up a reseller account to the first domain registration, is less complicated than you might assume. Learn who and how you can benefit from a business model based on domain reselling.
Why is domain reselling profitable?
Domain reselling means registering domain names and selling them at a higher price to gain a margin. Why would someone want to do this? Well, think about it: The domain industry is booming and has remained buoyant – even during hard times like the pandemic. In the era of digitalization, every project needs a domain name and becomes a real digital asset for companies of all sizes. With such enormous demand, millions of people buy and sell domain names daily.
The domain name industry is experiencing unprecedented growth as more and more people are starting to use the internet and discovering how useful it can be. Businesses also use the internet for advertising their products and services, consequently resulting in a huge demand for domain names.
There are many reasons why it is a good idea to start reselling domains. Here are just a few of them:
Domain reselling is a growing market that will only get bigger.
You can make money with minimal startup costs.
It is a profitable business activity, also as secondary service to your core business.
There are plenty of opportunities for cross-selling and upselling.
So, if you're looking for an alternative way to make a profit while offering a service to your clients, then this may be exactly what you're looking for!
Who can profit from domain reselling?
Domain reselling takes place on many levels, in both B2C and B2B segments. Many professionals can offer DNS and domain management to their niche audience. So, who are these companies for which domain reselling can prove to be a lucrative business?
1. Agencies
Agencies, particularly those active in the digital sphere, can offer domain management services to create a website, landing pages or any digital brand activity.
2. Domain investors
Domain investors purposefully acquire valuable domain names by registering them or buying from a third party. They see a domain as a form of investment that, depending on international market development, trends or events, can be resold at a later stage to maximize profit.
3. Domain resellers / MSPs
Traditional domain resellers manage their own domain registration website, while others could offer these domain-related services as a managed service provider (MSP). They can also provide services like domain and DNS management or protection tools. Contrary to domain investors, who set a specific price for each domain, domain resellers operate at a standard registration fee.
4. SaaS providers
Software as a service (SaaS) providers can add domain management to their service range and offer an additional feature in higher-priced packages. Website builders are an example of SaaS companies who can work with domain names. They usually lease their SaaS to create a website and register domains to host it.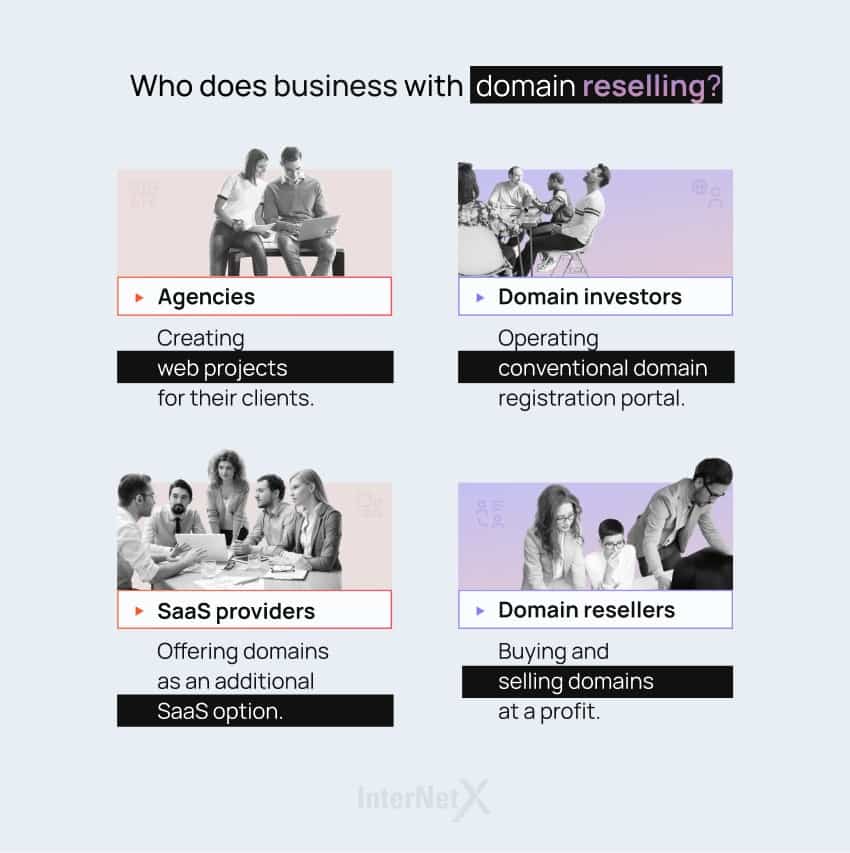 These are the opportunities domain reselling for you
It should be clear now. Domain reselling is a profitable business with plenty of market demand for different niches. You can embrace this activity in many different ways. You can sell domains directly to other people as an investor, run your own domain shop or offer them as an extra service. According to your business model, you benefit from unique opportunities. Let's find out how domain reselling can be profitable for you.
1. Domain reselling opportunities for… agencies
Agencies can expand and differentiate their services with domain products or specialize in domain management. Well-known brands and large corporations are increasingly outsourcing the management of their domain portfolios or, at the very least, seeking external consultation to find and implement the best international brand domain strategy. Many agencies have realized that they can benefit from this trend by registering domains on behalf of customers and reselling them as part of their service packages or as an additional service. Domains can become a crucial asset for every web agency as a good domain name can make a project stand out from the crowd and be the center of all marketing activities. It can be used to create brand awareness and establish trust.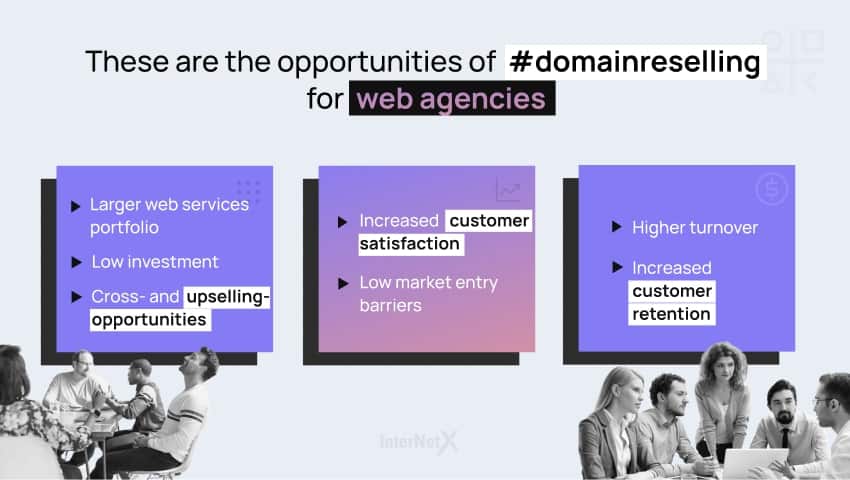 2. Domain reselling opportunities for… domain investors
Investing in domains can be a very lucrative business. Sometimes a domain name bought for a few dollars is worth millions of dollars a few years down the line, so the investor who manages to register the domain can expect high returns.
The value of a domain can change over time. How much it is worth depends on cultural and temporal factors, trends and market developments, to name just a few factors. Building a domain portfolio relevant to your niche can lead to many profitable future opportunities.
As a domain investor who acquires domain names to resell in the future, domain parking is a profitable side activity. It allows you to monetize your domains while you look for the best buyer. This way, you generate a passive income to cover registration costs and maybe even gain a profit!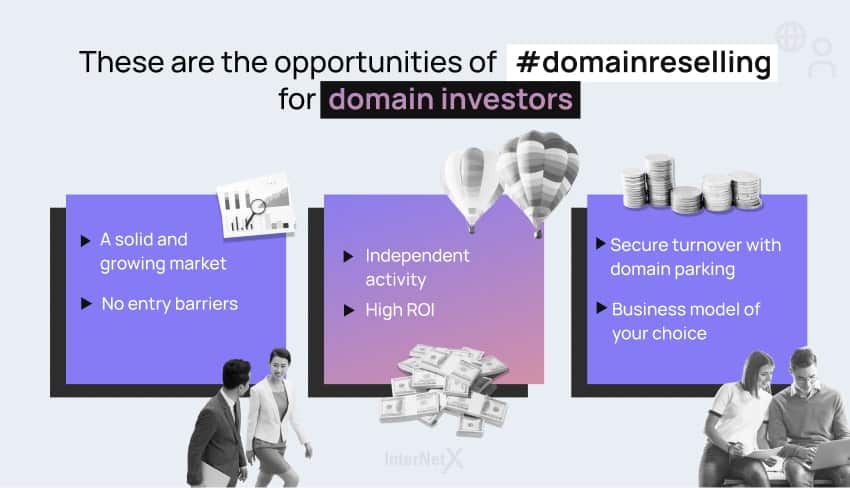 3. Domain reselling opportunities for… domain resellers
Reselling domains can be a great business opportunity for both new and experienced entrepreneurs. In recent years, the business model has proven to be very successful, with many resellers experiencing rapid growth. Although entering this sector requires low startup capital, resellers should automate their processes in order to scale up wherever possible. As a domain reseller, you can generally differentiate yourself on the market by offering additional services.
Clever outsourcing and white-label solutions allow you to streamline the business and reduce required resources rapidly. Your domain shop will benefit significantly from a domain robot via an API like the AutoDNS API that connects systems effortlessly, enabling you to integrate domain features & TLS/SSL services quickly. For a long-lasting profitable domain reselling business, offer long-term domains. To achieve this, you should opt for a registrar with multi-year domain registrations that allows you to register domains for up to 10 years and enjoy stable buying prices.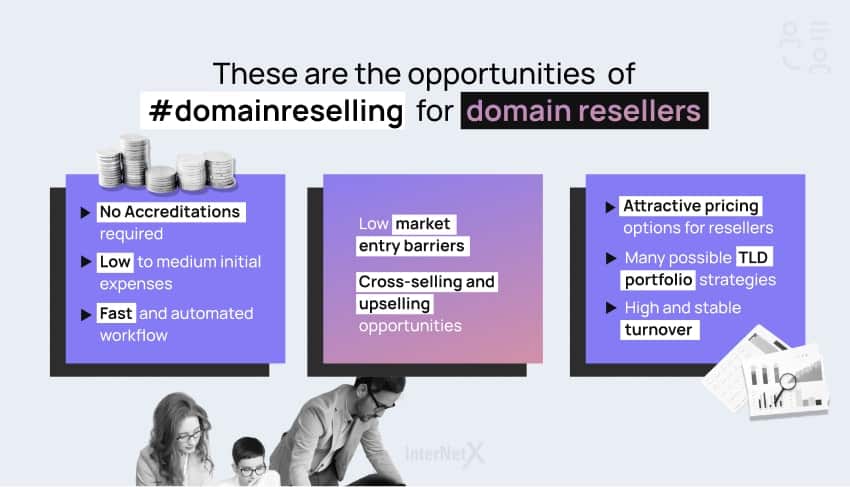 4. Domain reselling opportunities for… SaaS providers
Domain reselling offers SaaS providers a host of benefits. As a full-service provider, you can provide the matching domains as an additional service or include them in the price of your license. You can also market the domain name as a unique selling feature in the overall concept of your software or make it part of the package. This way, your clients do not need to look for domains at other service providers. They can benefit from your practical full-service offering. And SaaS providers generate higher turnover with only minimal effort.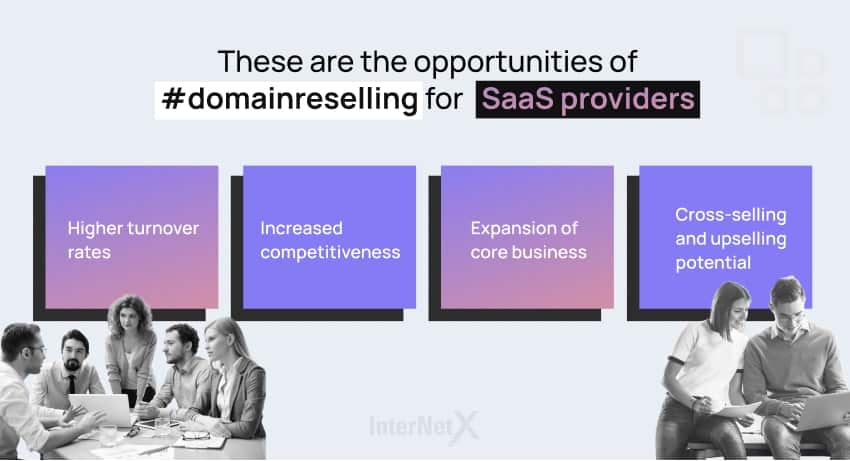 Every business comes with its own difficulties
The domain business is multifaceted and various. The multitude of options and information can often constitute an onerous burden. And finding the best-fitting niche and investing in the right segment requires a strategic approach.
Each type of domain reseller faces different issues related to its specific field. You might lack the necessary technical know-how, which could lead to mistakes when configuring complex domain projects or domain transfers. Domain portfolios should always be appropriate for the relevant market and be based on a thorough study of price policies, also taking a comparison with competitors into account.
If you want to get started with domain reselling, you should also be aware of the risks. In addition, a security concept should always be in place, allowing you to work safely and protect your domain portfolio.
Do you want to learn more about domain reselling? Download our e-paper "Domain reselling. Opportunities. Risks. Tasks" to learn more about the business cases, chances and risks.
The advantages of being an InterNetX domain reseller
It takes a solid strategy to come out tops in the domain business, so we have your back with our domain reseller program. Benefit from our long-standing experience and know-how in numerous ways. With an extensive portfolio of 1,050+ TLDs, competitive reselling conditions and prices, a white-label platform with API and upselling & cross-selling options. You will be right on track with our automation, which  does away with the need for many time-consuming tasks.
Download domain reselling e-paper