Blogpost
in
domains
Domain Renewals | This is to do
A domain can be forever... unless you forget to renew it! If you failed to meet this important deadline, don't panic. Often you have the chance to recover it. Let us tell you how.
Published by

Simone Catania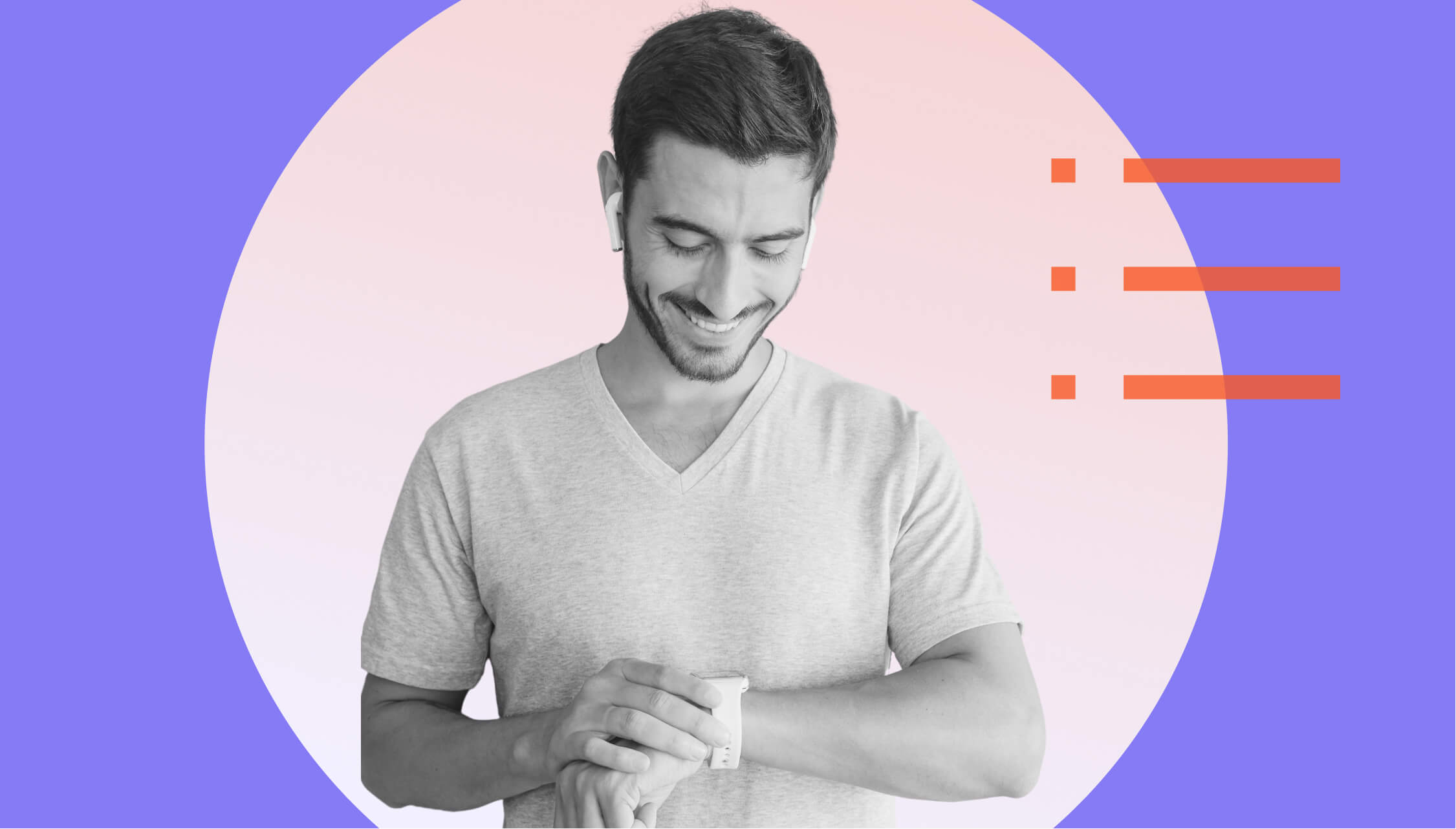 The domain you have registered has it all: it matches your business name, it sounds amazingly catchy, it is short and easy to remember. It's such a perfect domain! What should you do to keep it in the years to come? The answer is as easy as it sounds: renew it! To do this, you have to extend the contract with your domain service provider. If you fail to do so within the established time frame the surprise can floor you: being careless about the renewal date can lead to the loss of your domain name and consequently all data relating to your activity on the web.
Now you want to be sure to renew your domain on time, right? Don't worry, InterNetX as your domain service provider will always make sure you renew your domains with on-time reminders or Auto-renew options.
Keep reading to find out what happens when domains don't get renewed and how to make sure you don't miss this important deadline.
Your domain name – Your business asset
A strong domain name is a truly sure-fire trigger for your customers and your web presence in general. Today, the internet has become a space for diversification: it offers branding opportunities to reach local audiences with a ccTLD or with an industry-related gTLD to address your exact niche. Your domain name is the perfect business card and the starting point for every digital project.
Why is it important to renew your domain?
The domain renewal is a fundamental action for the continuity of your business operations that you should not forget to carry out. Losing your domain means that your users and customers lose access to all information on your website. Where will they go once your website is offline?
There are strong reasons why you should renew your domain on time.
Protect your online identity
Have you ever thought that your expired domain could end up in the wrong hands? An expired domain can change ownership immediately and be used for other purposes, which might compromise your company name and image. Don't forget to renew your domain to keep your online identity under control!
Guarantee business continuity
Today every business is strictly connected to its web presence. If you want to keep your SaaS product, your ecommerce website, or even your "simple" lead generation landing page, you need your domain to be renewed! Make sure that you retain ownership of your domain to keep your digital business running!
Keep the services associated with the domain
A domain does not only come with a webspace. There are various services your provider offers you along with the domain name such as your email, web servers, cybersecurity solutions or encrypted communication. Renew your domain, otherwise these services will mostly stop working!
Domain renewal: Who comes into play?
Before hashing out the renewal operations, let's clarify the role of the different actors involved in this process. Not surprisingly, they are the same as for domain registrations.
The process starts with the registrant, the user (private or company) who registered the domain. Yes, this might be you, i.e. the person that will choose whether or not to renew their domain with the registrar, the domain service provider. The registrar deals with all the operations involved with domains on behalf of the users. This means that InterNetX as your registrar will manage your domain renewals. However, registrars must comply with the regulations imposed by the registry, the central organization that manages the TLD. Registries operate the database of a specific TLD and are the ones who set the decisions regarding the registrations as well as the ones who set the renewal and expiration regulations.
Find perfect domains
You don't know who the registrar of your domain is? You can get the information you need in the ICANN Domain Name Registration Data Lookup.
Renewal time frame in the domain life cycle
As we have just said, every registry sets its own practices. This is why not all TLDs follow the same renewal and recovery rules. They vary according to the extension. When you register a domain name you get the duration of the contract and notices about the domain expiration. Usually, the starting date of the contract is calculated from the registration of the domain with the relevant authority. It can be a minimum of one-year to a maximum of ten-year contract.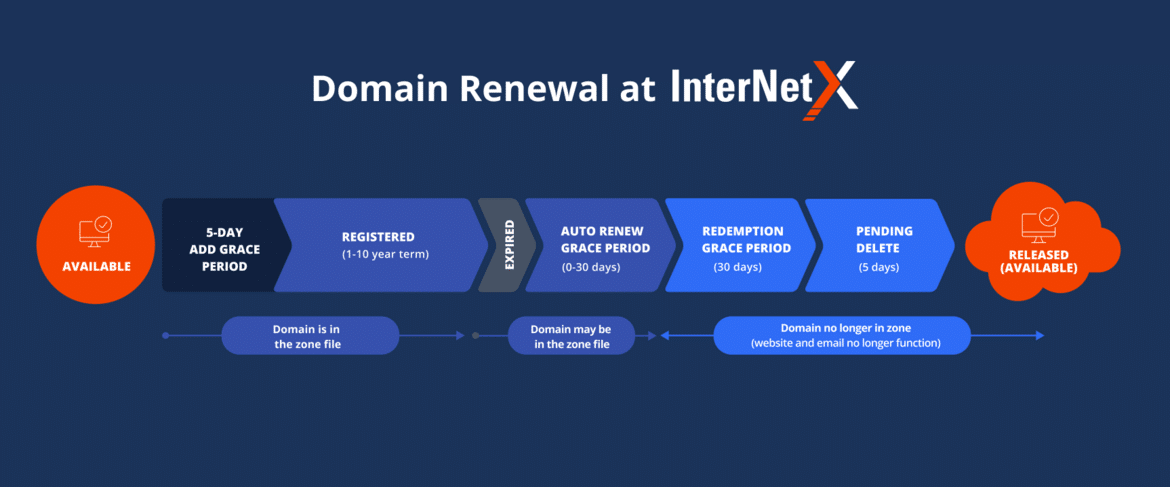 Have you missed the deadline? Let's see what you should do in case you fail to renew your domain on time.
What happens if you don't renew your domain?
If the expiration date has arrived and you did not take any action to renew your domain this will have drastic consequences. First and foremost you will lose ownership of your domain and all services associated will stop working. You won't be able to use emails and carry out updates or any changes.
If you have failed to observe the renewal time frame for your domain, there are two possible scenarios:
1. Your domain has not been removed after the expiration.
Some registrars will not cancel your domain immediately and will instead offer an auto-renewal period from 1 to 45 days from the day of expiration. If for any reason, you decide to give up your domain, the registrar can keep its rights of use or auction it. InterNetX offers a 30-day Auto-Renew Grace Period in which your domain will work as usual. After this deadline, the domain will be removed from the registry.
2. Your domain has been removed right after the expiration.
In case your domain has been returned to the registry before you could take action, you have 30 days to ask your registrar to recover the domain. This period is also called the Redemption Grace Period. If you request the recovery of the expired domain within these 30 days, the registrar has to restore it. But be ready to bear the cost of the recovery. Should you not reclaim your domain by the Redemption Grace Period, it will enter the Pending Delete Phase. After these 5 days, it will become available for registration again.
How to make sure your domain does not expire
At this point it should be very clear to you why it is important to renew your domain before it expires. To make sure you do not miss this vital deadline, ICANN recommends the following:
Stay informed about your registrar's terms and conditions regarding your domain name's expiration.
Make payments associated with your domain on time.
Keep your contact information up-to-date with your registrar so you don't miss updates and renewal reminders.
Consider the auto-renew option offered by registrars like InterNetX to stay on the safe side and make sure your domain does not expire.
Pay attention that if you renew your domain before the expiration date, you will not shorten the term of the domain, i.e. you will not change the domain expiration date. If you have successfully renewed your domain, do not worry if the information on the WHOIS is not updated. It will become available according to the timing set by the relevant registry. The correct information is the one available in your provider Control Panel. In AutoDNS you get all the relevant information you need about your domains, among others the expiration date.
What if you actually do not want to renew your domain? In this case, it is not necessary to take any extra steps. You can simply ignore the expiration notification.
InterNetX always keeps you informed about your domain
InterNetX as your registrar will always send you a notification about the upcoming domain expiration. If you do not want to lose the ownership of your domain, activate the auto-renew option, so you do not need to perform any action. Your domain will be automatically renewed.
Activate the auto renew in AutoDNS