Blogpost
in
domains
Domain authority | How to build it successfully
As a company, ensuring a professional online presence on a regular basis requires comprehensive on-page optimization. The key here is to establish strong domain authority to leverage the ranking potential of your website.
Published by

Carina Prüll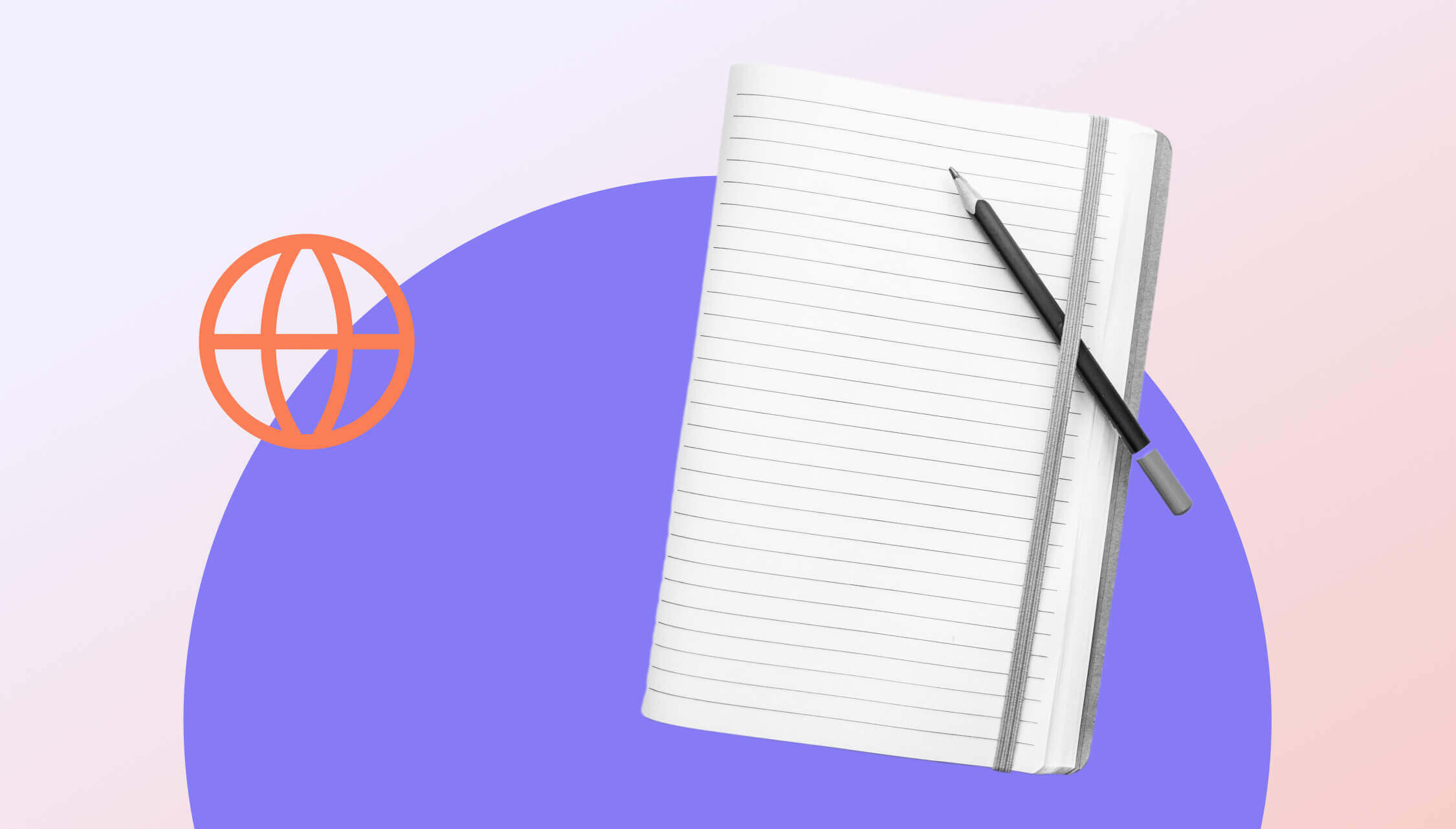 It is an undeniable fact that your online business will only experience growing popularity with the proper, convergent approach and the suitable content marketing strategy. And building strong domain authority is indispensable for this.
Good SEO performance is primarily based on the quality and sophistication of content, regular and comprehensive SEO audits (content strategy) and website usability. In addition, numerous other Google ranking factors influence the domain's authority score, which attempts to measure the authority of a domain name in the same way search engines do. When we speak of domain authority in connection with SEO, we are usually refering to the concept of a domain's authority in general. Consequently, the term is no longer tied exclusively to a rating tool, as was the case a few years ago. This will be explored in more detail later.
The overlap between domain authority, content marketing and SEO
In the online world, a website is THE touchpoint for many companies to their business partners and customers. And its digital discoverability offers the chance to inform potential customers about your own products and services – it also offers an immense repertoire of interactive possibilities and formats.

How well your company ranks in search engines compared to the competition and how instrumental a domain is – and therefore also how instrumental it is for the performance of the company website is – depends on:

1. the qualitative as well as the quantitative creation and presentation of the content provided.
Content is still king!
2.
the external and internal backlink structure, keyword matching and other on-page and domain factors.
These are still considered the number one gateway to great SEO rankings, such as web hosting and page speed. 
Good SEO is one of the most sustainable factors to achieve business goals, increase brand awareness and generate organic traffic. It is decisive for the inheritance of your domain's authority and its power to rank within its unique competitive landscape. In addition, good SEO offers a prediction of your status quo in relation to other competing domains, measured on a common scale of success.
What is domain authority?
Domain authority (DA) is an important indicator of the potential of a domain and website. As a metric, it measures the credibility and strength of a domain and a (corporate) website (website authority).
A concept in general
The term is used generically by SEOs to describe the authority of a domain based on its backlinks and other off-page factors that are not exclusively tool-based. Instead, they are used and optimized according to their own parameters. Therefore, in addition to backlinks and the authority of the domain's name, individual requirements and your own defined standards also come into play, determining and putting the overall quality of your website into perspective. This is also known as page quality rating.
Domain authority score
The domain authority score developed by MOZ and coined by MOZ Blog or Tool is an important metric that, after taking into account all SEO factors, indicates how a domain is likely to rank in SERPs.
In concrete terms, for domain authority, this means it is a metric calculated from the properties of a website that are relevant to search engines and indicates the probability of the domain, including the website, appearing on the result pages (search engine result pages, SERPs) of the respective search engines. Depending on the selected SEO tool, this complex system is expressed in a value from 1 to 100 points on a logarithmic scale. A higher number in the domain authority scale indicates stronger authority and thus better chances of a successful ranking of a company's website in search engine result pages (SERPs).
Domain authority as a parameter for the potential of your website

Consequently, although the domain authority score can provide information about the trustworthiness and relevance of a website as well as indicators for a good ranking, domain authority should not be considered a direct ranking factor for search engines in current SEO debates. However, It does still enable statements about the backlink profile and can be interpreted as a characteristic value for the propagation of potential link juice. This plays an important role in the monetary evaluation of domains. Tip: Domain authority can also be determined with the help of the AutoDNS Chrome Extension.
Domain authority and its assessment factors
Using domain authority as a general term is based primarily on the optimal objective of far-reaching business success in the digital world in order to describe the power of a domain. If a domain has many high-quality backlinks from relevant sites, it is considered a domain with great authority. New domains, on the other hand, have only a few links and therefore only weak authority. 
From an SEO perspective, backlink building is based on the assumption that the authority of a domain should always be increased. Off-page factors such as brand mentions, citations and social media promotions are becoming increasingly relevant and are pivotal to increasing your subjective domain authority.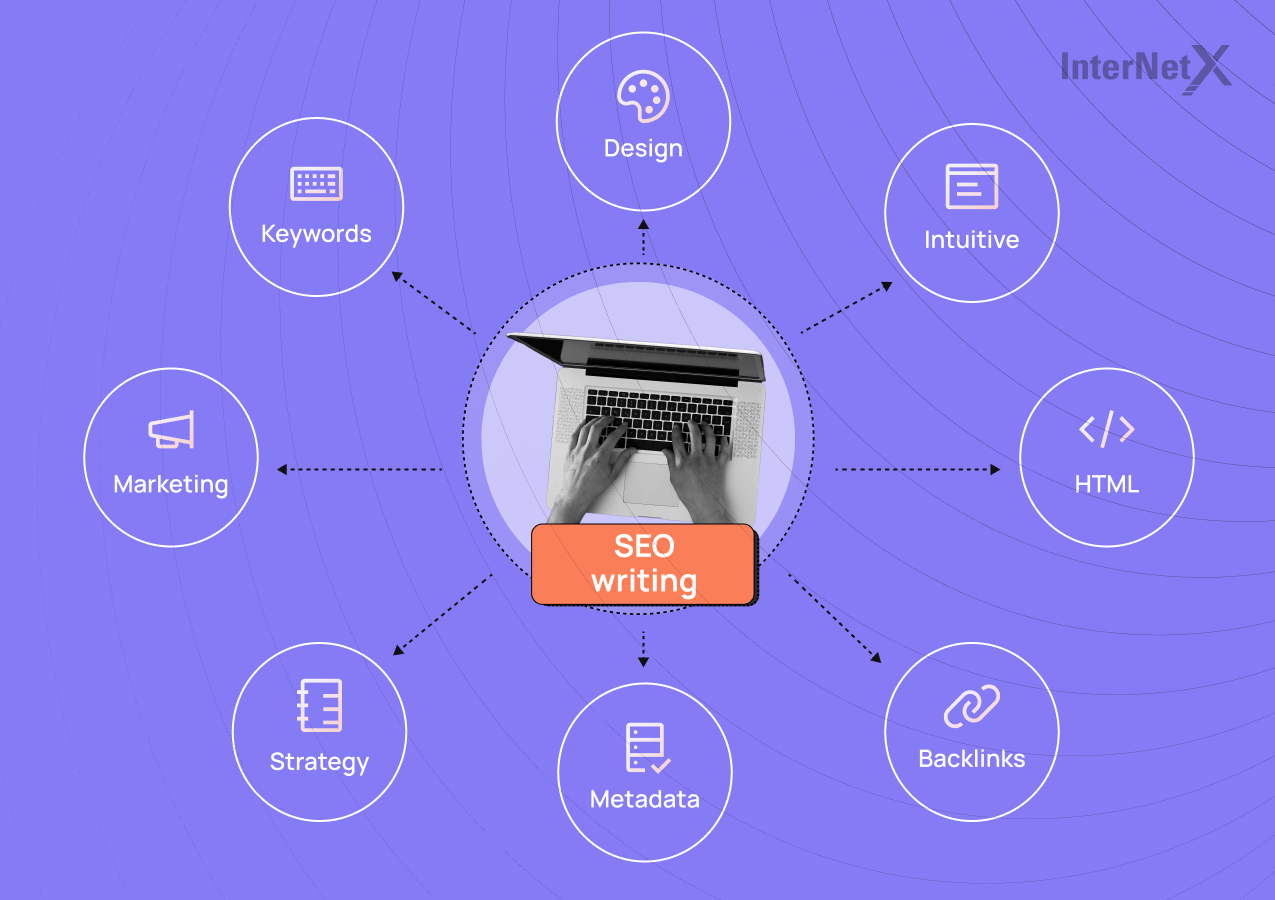 The idea behind the name of a domain and its authority score is based on factors mentioned by search engines like Google and evaluation measures that are not directly implemented, but nevertheless provide clues about the authority of a domain and offer an additional measurable guideline for own SEO efforts.
With the help of data on the development and maximum utilization of your website's potential, it allows you to make optimizations that are also relevant to your website. And it renders the use of tools for comprehensive domain analysis both valuable and essential. They provide additional information about the status quo of your website, measured against a common success scale and in comparison to other domains on the web.
Based on domain-relevant data and algorithms, details about the estimated value of domains can be determined, depending on the analysis tool and the multitude of differently used parameters, so that an optimal assessment can be carried out. New domain data is added to the internet every day, making domain-specific parameters all the more important. They provide additional insights into search volume, web statistics, TLD and keyword facts, similar sales, WHOIS check, Google Trends and much more with regard to domain performance.
Compare the estimated value of your domain

InterNetX offers domain valuation and analysis tools that give you access to SEO-relevant data, price estimates and WHOIS. Our Domain Price Check allows you to see the value of other domains. Get important details for each domain directly in the browser with the AutoDNS Chrome Extension.
Analytics tools vs. Google
Conversely, Google uses a variety of factors to rank your company website in its SERPs in a direct comparison. Besides page rank and the number of incoming hyperlinks, the content of a website plays a crucial role in determining the ranking. To determine how relevant the website title, its meta description and the actual page content are for a particular keyword, Google looks at them in their entirety.
Page rank is determined by the number and quality of links that a website receives from another website – currently, however, this is no longer a highly weighted ranking factor. And in the end, the number of incoming links also influences the ranking of a website. The more qualitative links a website has, the higher its authority.
A "clean" backlink structure is an important indicator for search algorithms

It indexes the credibility (domain trust) of a website.

The more inbound links from trustworthy, external pages point to one's own website as a landing page (link diversification), the more traffic and consequently digital visibility and authority is achieved.
The duration of the online presence can be an indication of the level of domain authority. As a website ages, Google believes that content and traffic increase, so high-quality content is generated and filtered out. However, such a level of popularity influencing page rank should not be taken as a fully sufficient indication, as SafeSearch expert Matt Cuts explains.
Systematically setting social signals is another way to improve the authority of a domain, the more often the company website is mentioned in relevant forums and on social media.
Regular mentions in expert blogs, infographics, videos and (sales) reviews can likewise create an impression and generate a positive ranking.

Note: Backlinks are still always considered recommendations by Google and are therefore important factors for SEO, but are not always 100% correct! Disproportionate, targeted and excessive link exchange (link spam) instead contradict Google's spam guidelines.
In the authoritative interaction of domains and SEO, in addition to all the important components of domain authority (i.e. link diversity and link quality, number of links, social media mentions, domain age and brand search volume) the central question about the purported influence of keywords in URLs or the heading structure cannot be omitted. 
Experience shows that your site will be rewarded if there is also productive and relevant content and an "exact match" is achieved.
Thus, quantity and fit with regard to chosen keyword domains can play a decisive role in implementing entrepreneurial measures to improve DA. A premium .me domain with a clear message, or a country-specific TLD with a local reference, such as .berlin or .africa, may also increase the authority of a website.
Tip: Focus on keyword matching when choosing your domains. Positioning the brand name in the domain, in title tags and titles as well as the headlines is important and can result in decisive ranking advantages. For example, keywords in TLDs can also be visually highlighted in the URL for a matching search query and consequently draw the desired attention to the search entry.
Find perfect domains
Why is domain authority so important?
Domain authority makes essential statements about how visible your business is compared to others within search engines. The relevance of your domain data, and therefore whether your website is even visited at all, depends on various core features.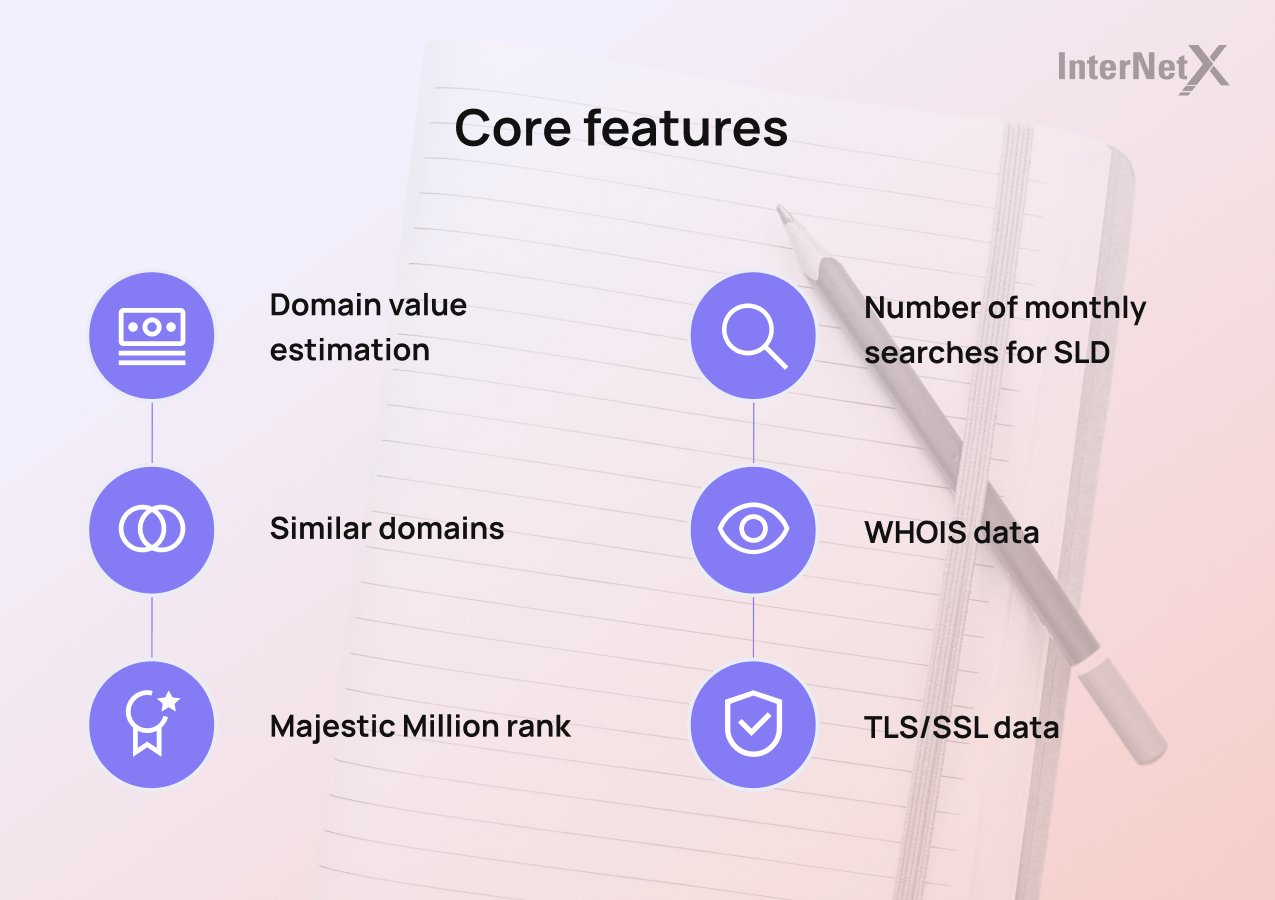 1. Domain authority ensures better ranking
A high search engine ranking goes hand in hand with good domain authority in that the two at least do not contradict each other. Rather, good domain authority allows positive conclusions to be drawn. It indicates a trustworthy, established and well-linked website, which in turn strengthens the trust of search engines. Websites with strong domain authority have better chances of ranking higher in search results and attracting more organic traffic.
Strong domain authority can also lead to better visibility in other online channels, as it has the potential to increase a website's credibility and influence in the digital landscape. This can take the form of increased referrals, partnerships and collaborations with other websites, influencers or industry experts.
2. Possible risks and changes of the domain authority
Similarly, domain authority as an indirect measure of success stands in correlation to many other factors that significantly influence the ranking of a website. 
The standard scaling results from so-called authority scores, which are comparative (as opposed to absolute) metrics. Therefore, it is also true that good SEO may not always reflect the actual authority score, because it is based on machine learning.
This means that each update can lower the score of a particular website and distort it due to significant link growth. Maintaining backlinks from fake websites (link spam) that do not contribute to Google ranking also leads to negative development in the scaling process.
Increase domain authority with the right strategy
Learn which indicators you should heed in order to leverage the potential of your domain and website while also meeting expectations about the response quality to user queries in Google Search.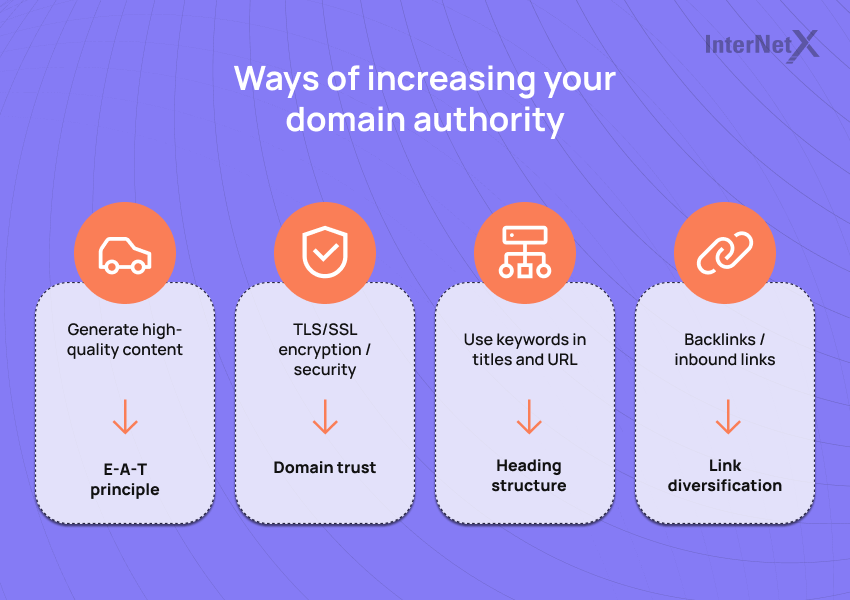 In essence, reliability and credibility determine the strength of your domain. Based on quality, the number of connections from trusted sources to this domain and the heading structure, they are decisive for domain authority.
5 tips for improving domain authority
1.
 Always keep an eye on the brand value of your domain in view
Learn to estimate the domain authority of your corporate website in key figures by using the right analysis tools that we have carefully developed and optimized for you. Check your domain data.
Also refer to individual pages of your domain (page authority!) and keep yourself up to date on current trends, developments and news in the domain business. Discover relevant topics in our Snapshot Hub.
2.
To increase rankings in general, the website content should be designed for one keyword or phrase
Use tools for:

3. 
Carry out extensive checks of link profiles
Pay attention to all inbound links, link diversity and also so-called link schemes that do not comply with Google's guidelines.
4.
 Use off-page measures to build a high-quality link structure for your website that aligns with your business goals and values
In addition to important on-page measures, stable link building growth forms the perfect tactic in content marketing to build a strong domain authority.
Accordingly, it is the establishment of so-called "mentions" that are compelling at the SEO level in general and in various media formats:

Deliver informative blog posts on a regular basis and automate numerous referrals from other websites to your own domain. 

Generate active link building with your high-quality content.

Suggestion: Clever and regular content structures support each other by maintaining relationships with other websites and their business partners. This concept is also known as the "moving man method" and was coined by renowned SEO expert Brian Dean, founder of

"Backlinko"

.

With high quality backlinks, your website will be indexed even faster in the future, you will gain referral traffic and automatically achieve improved rankings as well as good DA.

Pay attention to Q&A platforms and keep your own blogs. Modeling "question to answer" increases the number of backlinks to your own website and generates organic traffic.

Use different types of digital marketing, such as email marketing (similar to the "moving man method").

In-depth content entails clean execution and a goal-oriented approach at all times (comprehensibility, readability, clarity, length).
5.
 Follow the latest development of your domain authority as well as the development of the authority of other domains
Continuously optimize your domain ranking – as far as possible – using a five-point guideline.
Our InterNetXperts offer AutoDNS Chrome Extension as a free SEO and domain check tool. It helps you to analyze the domain authority of other domains. Try it and make sure you don't miss any opportunity to benefit from relevant SEO data for successfully building a strong domain. Increase the domain authority of your business website today.
To AutoDNS