Blogpost
in
domains
10 Reasons for .me premium domains
Starting your professional web page is easy these days. With a premium .me domain name, you gain a tremendous digital asset that conveys a clear statement: "This is all about me!".
Published by

Carina Prüll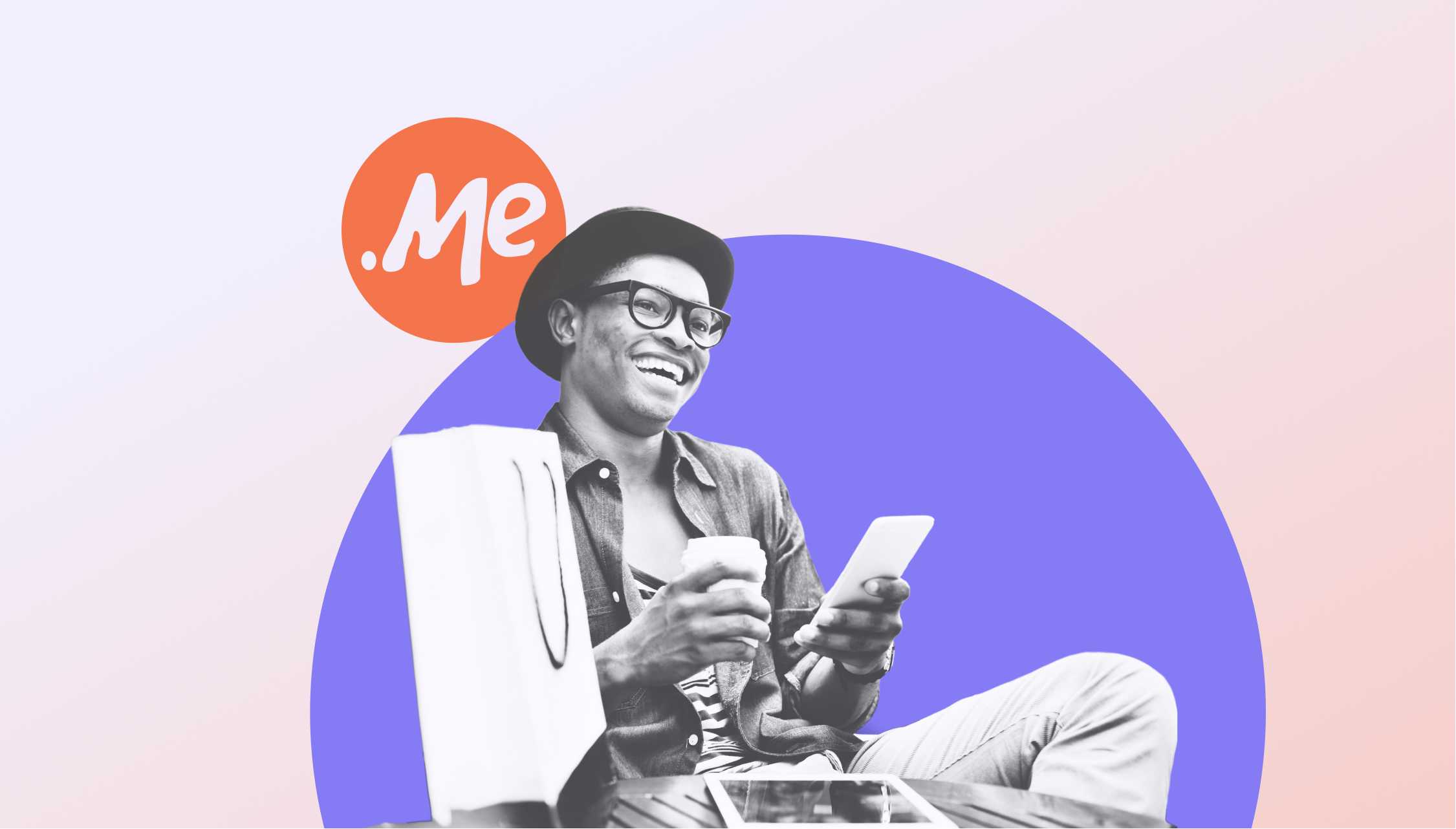 Starting a business today has never been easier. Access to the internet allows us to connect globally with a broad audience, scaling business possibilities while offering us the flexibility to manage our responsibilities from anywhere in the world. However, these opportunities also come hand in hand with significant challenges, such as increased competition. For this reason, the strategy you deploy and the personal identity you create on the web can make all the difference. Choosing the right domain name with a catchy solution can create a brand asset and power up your online presence. And this is exactly what a .me premium domain name can deliver!
The domain name: from Montenegro to you!
The internet is a place where millions of companies seek to establish their business and excel. Can a domain name be the first step toward business success in the digital age? We absolutely think so! With a memorable domain name, you lay the cornerstone for the website's creation. When it comes to personal projects, the TLD .me is a fantastic choice.
The extension .me is the country top-level domain (ccTLD) for Montenegro. In July 2008, the registry operator rebranded its scope, marketing it as a generic TLD and focusing on the meaning carried by the word "me" in English and many other languages. Today, anyone can register a .me domain name and benefit from a digital asset with immense personal appeal and the possibility to create catchy domain hacks.
Premium domain names under .me
Premium domain names under .me are valuable, profitable and helpful. They allow the creation of powerful marketing messages using the combination of a keyword, abbreviation or CTA with .me. Premium domains are usually reserved for the most innovative and forward-looking projects by those who recognize them as a true digital asset. Opting for a .me premium domain will allow you to create a unique brand around your domain name.
10 reasons to opt for a .me premium domain name
Express yourself!
This is the motto of .me domain names for personalizing your blog, professional or amateur website. It's a truly creative game, offering a ton of potentially clever combinations. We explore ten reasons that make .me premium domains stand out as an innovative and unique key to success on the web!
1. Tailored to you
A .me premium domain can match your identity or CTA exactly. The ccTLD .me represents a must-have opportunity if you want your website to focus on your own person or a specific action. It provides the basis for an outstanding business card to start talking about you and your mission!
2. Create a trustworthy professional online presence
Great domain names are short, memorable and let the user know  exactly what they can expect to find on the website. They present yourself and your activity clearly and accurately. Imagine a domain like yourname.me. It offers the precise, personal and professional web image that everybody wants!
3. Boost SEO around your name
If you have a website, your goal is to reach the top of search engine results. Linking your name to your domain name is a great boost to your SEO. It helps ensure that users find you at the top – a clear signal that will deliver better performance. Of course, you cannot forget about quality content, which is absolutely essential for SEO. Add reliable and fast hosting that supports performance and an adequate level of security with encryption certificates such as TLS/SSL, also indispensable these days, and you have all the building blocks needed for solid brand SEO.
4. You are in the digital space
We are currently in the middle of a historical shift – the fourth industrial revolution. Powerful digital and new technologies entering the working sphere. The range of topics is broad, all focusing on the digitization of business and the grafting of what is called Technologies 4.0. Many SMEs and professionals are still dragging their feet in this evolutionary process. With a catchy .me, you can keep in step  with this revolution and demonstrate that you are paying attention to the changes in society.
5. Cut cost for PPC
Can exact match domains improve your Quality Score? According to recent studies, the answer is yes. Along with paid keywords, copy and landing pages, a matching domain name can make the ad more relevant to a specific search query. This improves your keyword performance and results in fewer expenses for pay-per-click ads.
6. Different from competitors
ccTLDs and .com are the online rulers today. Even though it is technically a ccTLD, the domain extension .me functions like a gTLD and Google handles it like one. This makes it a powerful online tool that can make all the difference! Underline your individual and professional scope on the web with a .me premium domain and become more easily recognizable in an industry filled with competitors that are "all the same".
7. Gain domain authority
It is a well-established fact that search engines consider "domain authority" as an essential factor when evaluating the "power" of a website. Various elements determine this factor, such as the age of the domain, size, quantity and quality of incoming links. A premium .me domain with a clear signal related to your person can increase this "authority" on the web!
8. Personal but professional
Even though the domain extension .me is primarily intended for personal projects, this does not exempt it from being suitable for professional business projects on the web. Any professional can use this domain to present their products or services on the internet. If you are on the internet for business and not for fun, you could very well find the perfect solution under this extension –  .me is a personal but well established option for professional platforms.
9. Originality at its best
You want a professional web presence that stands out from the crowd? But you also want to add that personal touch, right? Your website must be recognizable and, above all, memorable amid the countless other sites swamping the internet. Your domain name must hold its own unique character, design and way of functioning. Start building this originality with a .me domain name!
10. Commitment to security
The extension .me not only creates user trust due to its intrinsic meaning, but also provides for high security standards. The .me registry uses several tools that regularly monitor its portfolio for spam, malware, phishing and other malicious activities. Furthermore, the registry is highly reactive with regard to any instance of abuse.
Don't forget the hosting
Perhaps you've already found the perfect .me premium domain name to provide the foundation for your next online endeavor. That's a great start for your project! Now you also need a provider who can host your content reliably. Web hosting is the service that stores the relevant data and files, offering you computing resources for your project. It is the digital home for your project. We can offer you all the domain and hosting solutions that you need to create a solid digital identity under .me.
Register .me in AutoDNS