Blogpost
in
domains
An analysis of European online shops and their domain names
What are the most widely used TLDs in the e-commerce industry in Europe? Find out how European online shops use domain names.
Published by

Simone Catania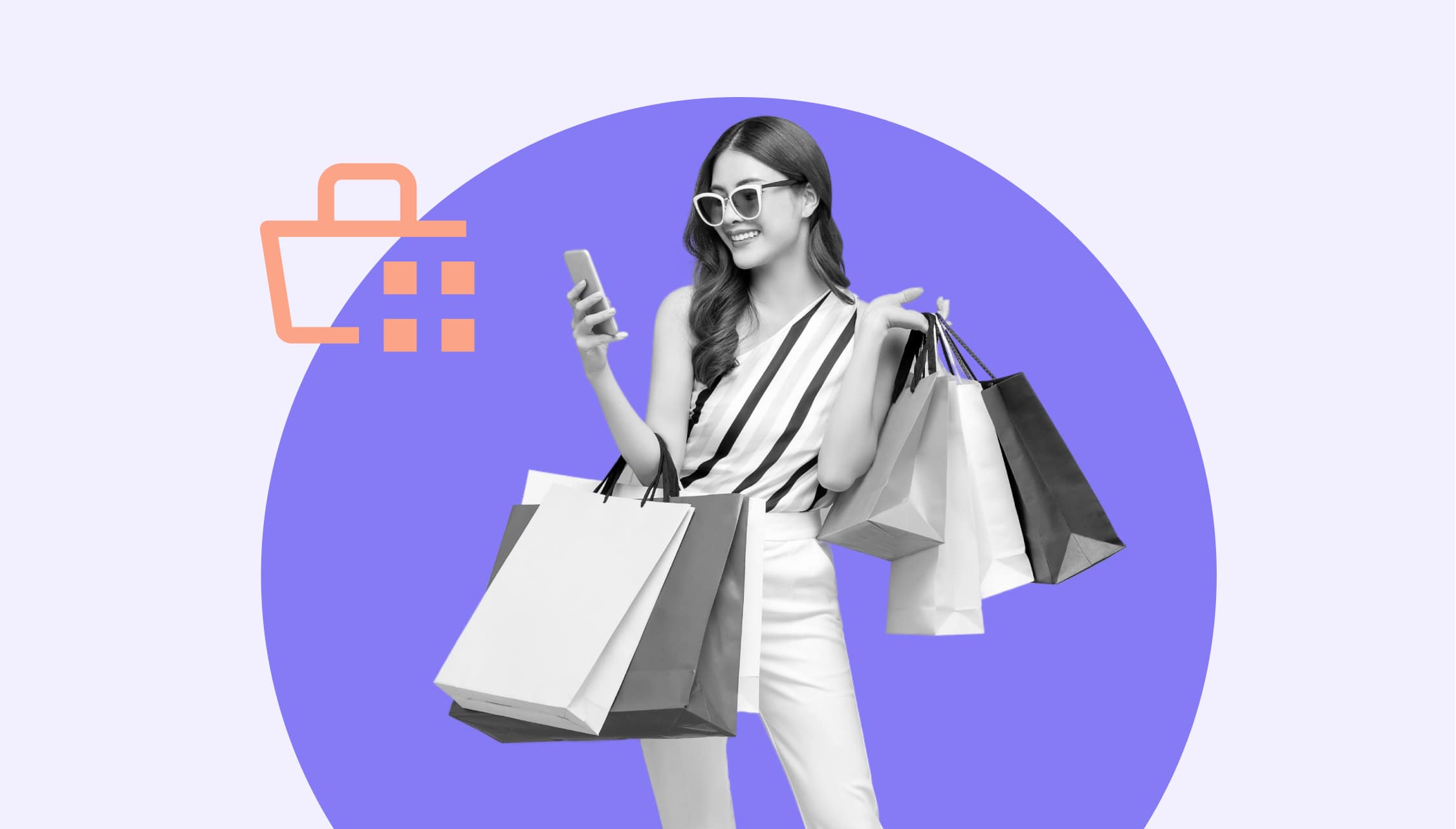 Europe is home to diverse and multi-faceted markets and has always been an important player in the digital scene. In this region, the e-commerce market has quickly become a major global trade and retail force, with users increasingly turning to digital shopping. In 2022, 75% of all European internet users bought goods or services online, an increase of 12% compared with 2016 (63%). The numbers are steadily rising and according to Statista, online shopping in Europe will reach $1,304.13 billion by 2027.
The digitization of commerce and the emergence of more and more e-shops can only benefit the domain industry. The relationship between e-commerce and domains is strongly intertwined. That is why we set out to explore the domain names of European online shops by looking at the use of TLDs in the region, while also taking a look at the topic of domain security.
The importance of domains for online shops
Domain names play a crucial role in creating and developing online businesses. First, from a technical point of view, they allow you to "reach" the shop on the internet. But the domain name has become more than just a technical requirement. It's a vital part of your brand, around which all your marketing efforts revolve and it's what Google and other search engines use to index your pages. Many digital native brands have built their brand identity around their domain name. A catchy and memorable domain name will help you stand out from the crowd, so choosing something that reflects what you do and who you are as a business is crucial.
The dataset of domain names of European e-shops
To get an overview of how the European e-commerce industry uses domains, we analyzed the internet database at Dataprovider.com. We looked for "real" online shops, meaning those websites that allow users to do online shopping, i.e., put a product in the cart and finalize a payment. This data was then filtered to only include online shops with offices in Europe. We obtained a dataset of 1,214,610 records, which takes a snapshot of the state of the web as of November 2022.
Which European countries host the highest number of online shops?
By analyzing the websites' IPs, we could get an overview of which countries host the most online shops. The results are not surprising. The top 5 chart shows Europe's largest economies.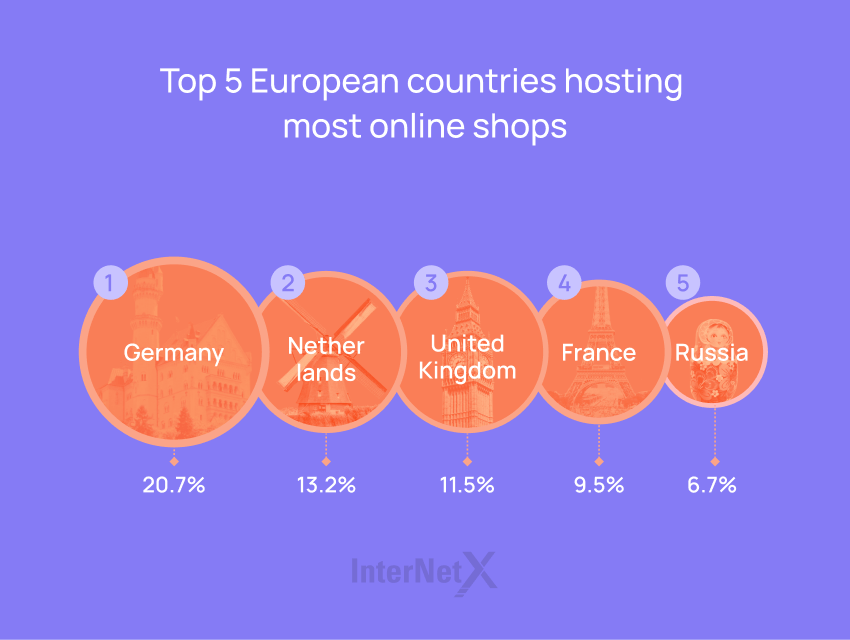 The importance of these countries is also reflected at the city level, with Berlin (7.2%), London (5.5%), Moscow (4.8%) and Paris (4.5%) topping the chart.
European businesses turn to ccTLDs
ccTLDs are Europeans' favorite choice when choosing a domain name for their online business. The gap between ccTLD and other TLD categories is vast. Almost 70% of European online shops use a ccTLD. This trend sharply contrasts other regions, for example, North America and Asia, where gTLDs, captained by .com, account for 86.2% and 67.6% respectively.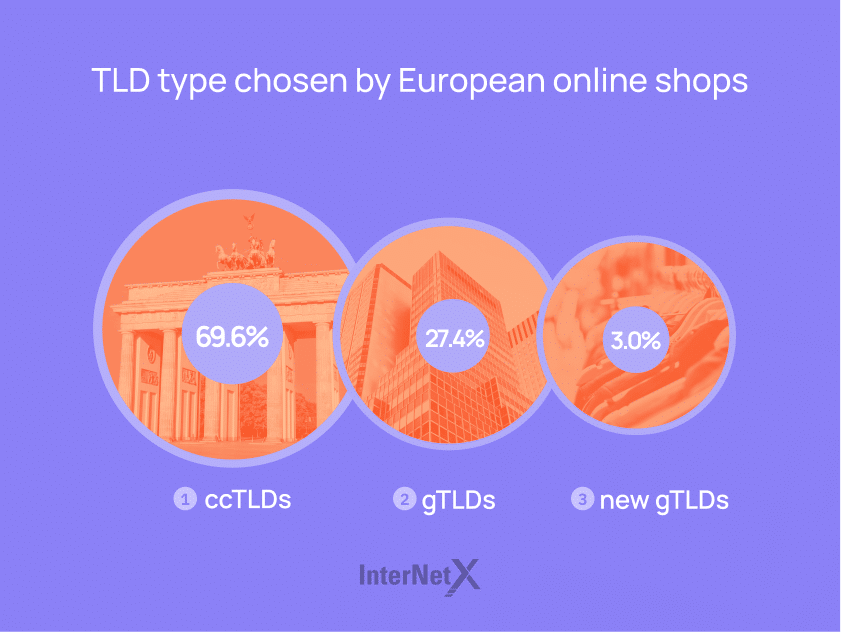 The relationship between Europeans and their ccTLDs is a long-lasting one. In our interview, Barbara Povse, director of CENTR, explained the reasons why Europeans prefer to turn to their ccTLDs:
European customers recognize the value of having a local address and identity.
European ccTLDs pay a lot of attention to the safety and security of operations.
National legislation governs our business and protects domain name holders.
Local registrars offer registration in national languages.
Disputes are easily solved.
Most customers perceive their ccTLD as a national online identity that is safe and reliable. Registrants therefore prefer to use a ccTLD for their online shop and as a recognized trademark for their business.
These are the top-level domains European chosen by online shops
If we break things down to the individual TLD level, we notice a trend that has accompanied the internet since its earliest days. The .com TLD dominates the ranking with the highest percentage of domain names in the e-commerce category. As we are talking about the world's most widely used TLD, it is not surprising to find it heading this niche as well.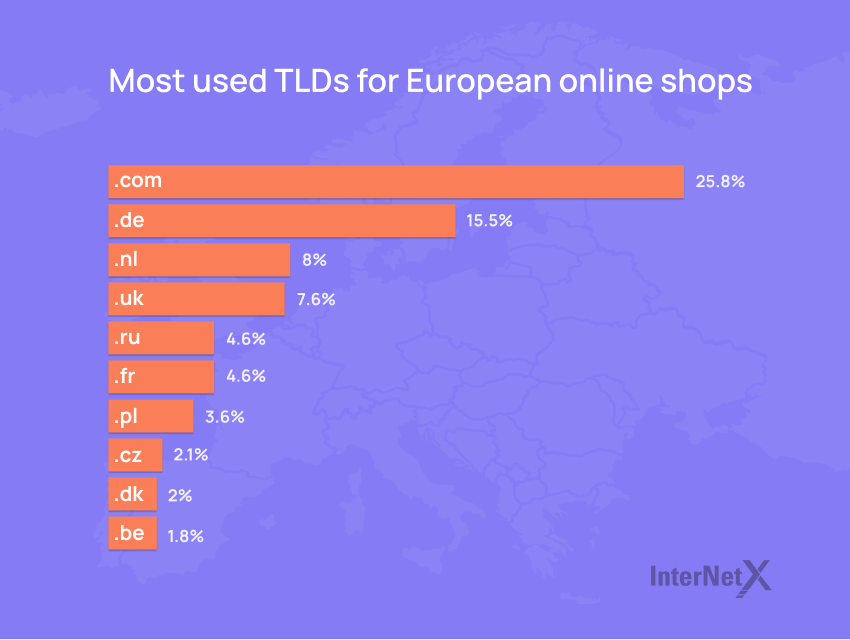 We can assume that .com is the chosen TLD by major online stores that intend to start an international business and eventually target local markets with a domain strategy for a multi-language website. Beyond .com, the chart exclusively lists ccTLDs.
Spotlight on the most frequently used new gTLDs by European online shops
Despite the large offering of new gTLDs, only 3% of European online shops opted for this TLD category. Nevertheless, the trend is positive. Comparing the percentage with past years, it is possible to see increasing registrations for almost all new gTLDs.
If we break down this new gTLD data, the highest percentage of domains has generic new gTLD (93.8%), followed by geographic gTLDs (5.6%) and branded gTLD (1.2%). Under geo TLDs, the top 3 features .berlin (0.7%), .london (0.5%) and .paris (0.5%).
How secure are European online shop domains?
IT security is a central factor when running an online business and domain security should be a priority of every online shop.
Among many options, DNSSEC is one effective security toolkit that registrants can apply. It is a set of security extensions to the DNS that guarantees the authenticity and integrity of the DNS data. Unfortunately, the use of DNSSEC has yet to gain traction universally. According to our data, as of November 2022, only 16.2% of all European online shops appear to deploy it. This is a shortcoming that can have expensive consequences, because it opens up vulnerabilities that can be exploited for domain hijacking attacks, for example.
Another critical security aspect  is making sure that all of your shop pages use HTTPS encryption, including the product and checkout pages. This protects credit card numbers and other sensitive information from being intercepted by third parties who may be trying to steal it. Encryption is widely accepted and implemented these days. Most European online stores have implemented a TLS/SSL certificate (93.4%) and, in most cases, a domain validation (DV) certificate (93.9%). This product offers a basic security level, guaranteeing that the information about the domain matches the data available in the WHOIS protocol or DNS servers.
Every website needs TLS/SSL certificates. Which is the right one for your online shop? Read the answer in our article "DV, OV and EV certificates | What's the difference?".
What is the best domain name for your online shop in Europe?
It's evident from the analysis done in this article that there's a definite pattern emerging for European online shops when it comes to their domain names. We see that .com domains are prevalent as usual, but when it comes to the TLD category, ccTLDs are far ahead.
There are many great options to consider when choosing a domain name. Research and testing should be the first step to picking a good domain name. So start by looking at what similar businesses are using—this can give you ideas for your company name. Second, search for specific keywords related to what your business does or sells and then see how common these keywords are and how often brands use them.
Once you've narrowed down your top choices of domains that fit your selected criteria. You'll want to choose something simple but distinctive, so it stands out on its own—a descriptive word or phrase works well here as long as it doesn't sound too much like another company's name!
When choosing the best domain names for your online shop in Europe, think about the following tips:
Does it trigger the concepts and feelings associated with your brand?
Is it easy to remember and digitize?
Does it sound natural when spoken aloud?
Does it represent your brand or what you're selling?
Price is also a factor when considering which domain name to use. A short .com domain might seem like the perfect solution, but such domains can cost quite a lot. If you're starting out, it might be too much up-front investment for you. Fortunately, there are plenty of great options for affordable domain names that represent your brand well.
Visit our TLD list and select the suitable filters to help you find the perfect domain for your online shop!
Go to the TLD list