Blogpost
in
hosting
The benefits of private clouds for enterprises
You can host your IT infrastructure at private data centers. With private cloud, you do not share your server resources with other users.
Published by

Annika Jehl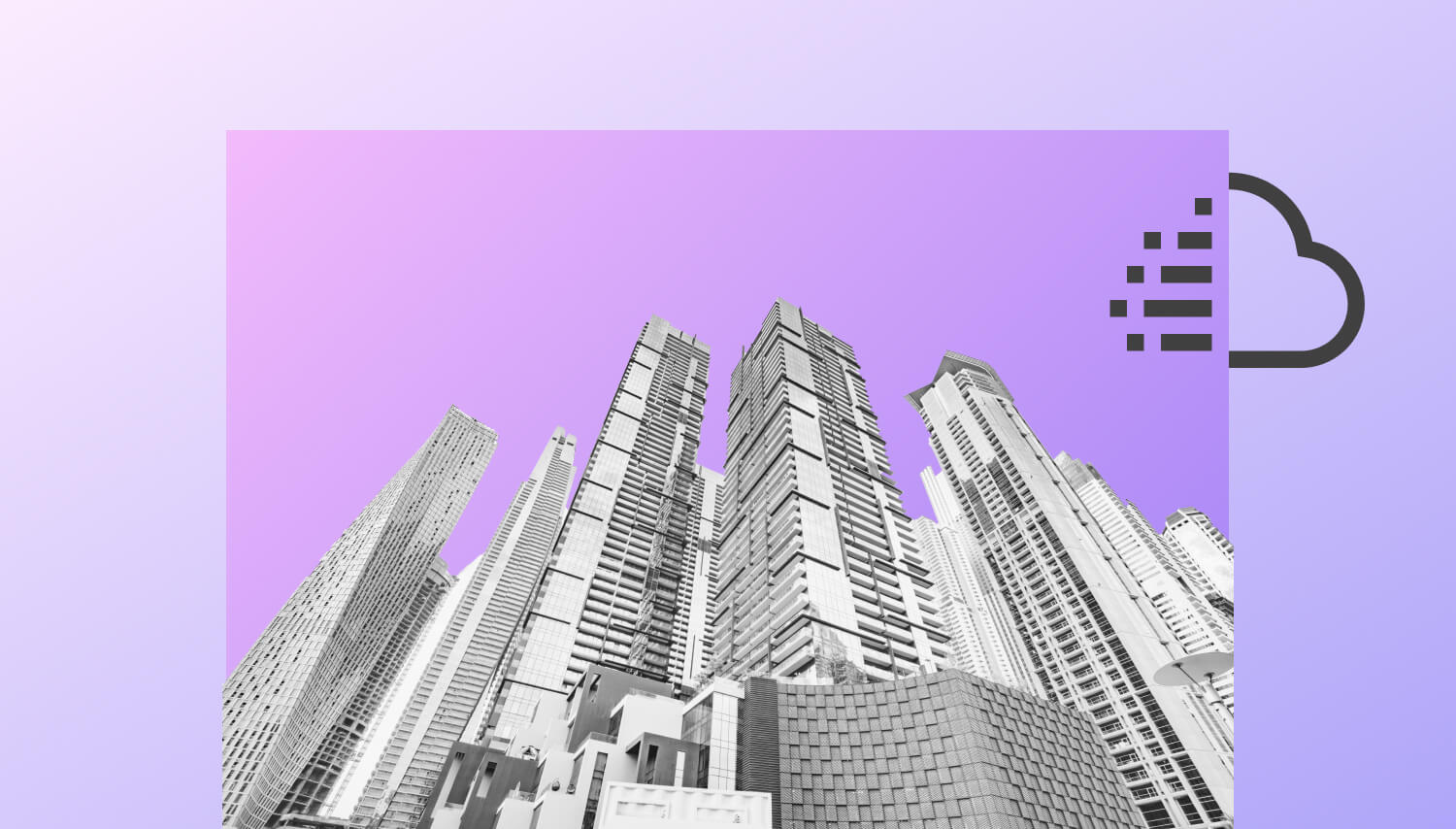 Cloud storage is taking on an increasingly central role with data processing in today's corporate world. In particular, it has become absolutely essential for employees in a flexible working environment to access internal company data from any end device and from any location. With regard to data security, however, there are also weak points in the system that companies must consider when it comes to sensitive customer data. There are currently four different cloud storage systems available on the market, all of which basically work on the same data storage principle. These include public cloud, private cloud, hybrid cloud and virtual private cloud.
What private cloud offers
Cloud computing offers a high degree of scalability in the areas of storage resources and computing performance – perfect for companies permanently faced with changing technology or undergoing expansion. There are differences with regard to data security, which can be realized most effectively with a private cloud solution.
Employees access the company data stored on the private cloud via a direct connection or via the virtual private network (VPN). In practice, it is evident that pure web applications are attractive targets for hacker attacks. Private cloud is also often referred to as enterprise cloud. The self-administration of a private cloud means that companies can implement control mechanisms, customized to their business processes, and make adjustments within a very short timeframe.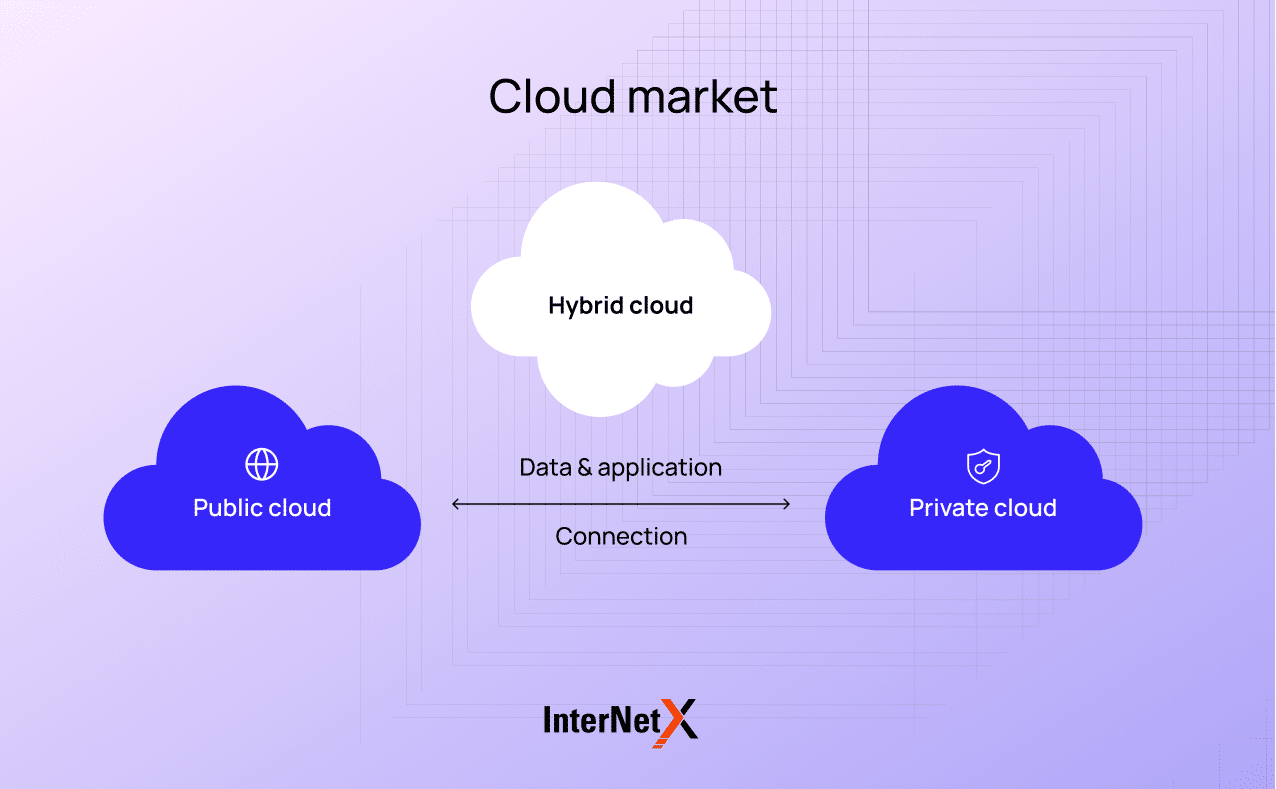 Plus, they can organize and manage IT services with more flexibility. New business functions can be integrated into the existing system quickly. As a result, the exchange of information is more dynamic, thereby contributing to improved decision-making in the company. By using visualization technology, employees can access all physical systems in a private cloud from one source. The administrative control is executed via a management software. Data backup cycles are determined autonomously by the company.
Required resources for cloud technology
A private cloud enables exclusive use by one business or by a specific group of people. The cloud technology is either operated by the company in its own data center or it is outsourced to an external data center.
With the relevant investment in hardware and software, IT specialists can build and operate the infrastructure for a private cloud in-house. Alternatively, a contracted colocation provider can take care of operations and maintenance. In a nutshell, the installation, maintenance and development work requires skilled employees.
Private clouds can also be rented. When using the services of a cloud provider, the resources are available at the relevant security standard in their data center. Company employees can access applications in the cloud via the company intranet or VPN.
The advantages of private cloud
The advantages of private cloud include the high level of data security, data protection and greater control. With private cloud, the company itself carries out their preferred security precautions, which allows for neater incorporation and implementation of IT governance and requirements.
1. High flexibility
By avoiding any kind of vendor lock-in, companies are able to select their provider and technologies themselves and can run operations internally or externally.
2. Optimal control
A private cloud offers a company full access as opposed to a public cloud with the allocation of access rights. However, the administration requires a high level of IT expertise.
3. Easy scalability
The provider adjusts the resources to the company's requirements. The software in the cloud is easy to scale, so IT experts can make adjustments as needed.
4. Define security rules autonomously
Your private cloud is more secure as fewer individuals know about it. What sets private cloud apart is the ability to build in custom security functions.
5. Conformance to GDPR
With private cloud, companies know exactly who is hosting their data and which processes and protections are in place. And they can retrieve it at any time.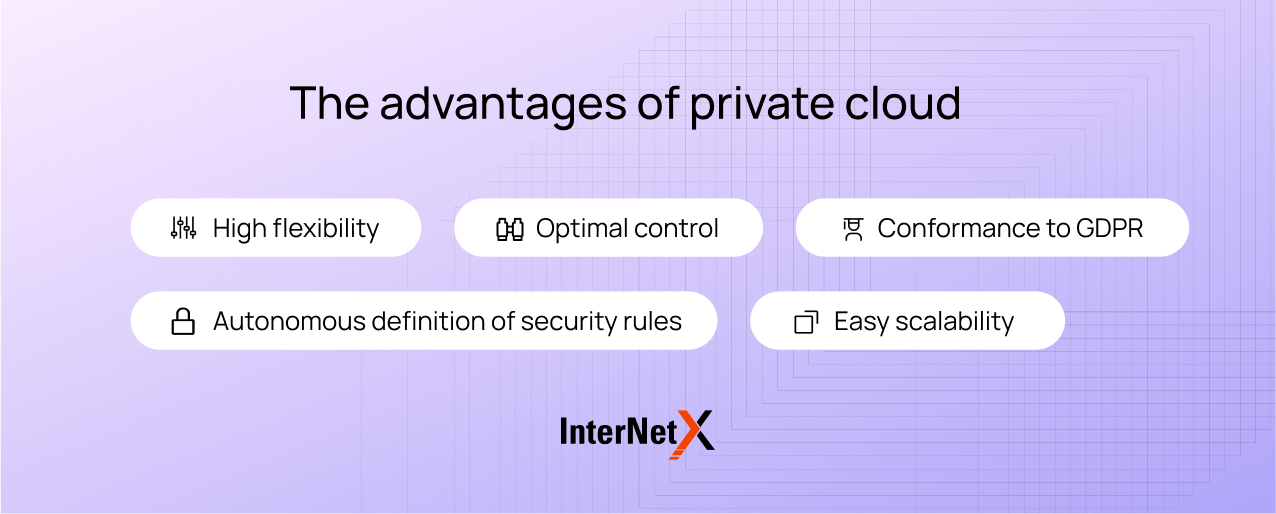 When companies must fulfil stringent security guidelines, directives or state regulations (e.g. GDPR in the EU), private cloud meets the required standard. This applies for all companies that process sensitive customer data on a regular basis or when they must protect employee access to sensitive company data.
Our cloud server solutions for you